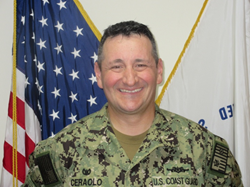 Doha, Qatar (PRWEB) October 05, 2015
A seasoned operational commanding officer in the U.S. Coast Guard has joined the distinguished panel of expert speakers at the Qatar Maritime Security - Coastal and Border Surveillance Conference (QMARSEC).
The third annual QMARSEC conference will take place on 28 October 2015 at the Ritz Carlton Hotel in Doha, Qatar under the theme "The Future of Automatic Identification System (AIS) Technologies and Deployments." This year's event will focus on all aspects of border and maritime security, with a special emphasis on the technologies, sensors, and identification systems that are a key component of border protection programs.
"Captain Tony Ceraolo, as the Commodore of US Coast Guard Patrol Forces Southwest Asia out of Bahrain, has command experience in some of the most high-density maritime operational environments in the world," said Staff Brigadier (Pilot) General Mohammed Al-Mannai, Director of the National Shield Project of Qatar. "I am pleased that he will be lending his experience and expertise from the U.S. Coast Guard to QMARSEC 2015."
Captain Ceraolo has held senior staff level assignments in the US Coast Guard and has commanded several Coast Guard patrol vessels deployed in North American waters. His command assignments include taking the helm of the Coast Guard Cutter USSCGC POINT CAMDEN, an 82-foot patrol vessel home ported on the West Coast of the United States, as well as the Coast Guard Cutter USSCGC NEAH BAY, a 140-foot vessel operating in the busy Great Lakes region of North America. Commodore Ceraolo is a graduate of the distinguished John F. Kennedy School of Government at Harvard University as well as the Naval War College. Following his command assignments at sea, Captain Ceraolo held staff positions of increasing responsibility including that of Military Assistant to the Secretary of Transportation and Director for Maritime Security on the National Security Council Staff at the White House, as well as serving as the Chief of Sector of the New York Command Center, one of the busiest maritime regions in the world.
"Maritime security is a constantly evolving field," said Captain Ceraolo. "Events such as QMARSEC 2015 allow professionals from around the world to share the latest knowledge and best practices with each other, and make the world's oceans a safer place."
The annual QMARSEC conference provides a forum that encourages information sharing and cooperation among military, government, industry and academic maritime security experts from around the world.
The conference encourages the development of joint endeavors, particularly new technologies, in order to deepen and enhance inter-agency cooperation and collaboration to mitigate future security threats.
For more information please visit the QMARSEC website at http://www.qmarsec.com