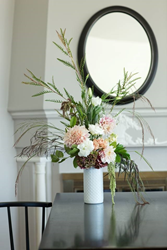 Being around fresh-cut flowers is a surefire way to enhance emotional well-being, so don't stress out over your flower purchase. --Billy Crawford
San Francisco, CA (PRWEB) October 06, 2015
Club Botanic, a new subscription-based flower delivery service, has sprouted in San Francisco!
Designed to make it easy to access beautifully arranged, locally sourced bouquets and wreaths on a delivery schedule that fits today's lifestyles, Club Botanic offers a flexible and stress-free way to enjoy fresh blooms all year round.
"Research shows that being around fresh-cut flowers is a surefire way to enhance emotional well-being, so it doesn't make sense to stress out over a flower purchase," says Club Botanic founder Billy Jim Crawford, who was motivated to create the new business by his own frustration when using traditional methods to buy flowers.
"Flower shopping can be exasperating," Crawford points out. "If you want a mix of types or colors, you have to buy more than one bunch. If you choose a pre-assembled mixed bouquet, you're never sure that all blooms are fresh. When you order online or from a flower shop, there's always the delivery worry. And then you have to cross your fingers that you're not supporting an unsustainable growing model."
With its curated, display-ready arrangements of fresh flowers sourced from local or regional growers, Club Botanic addresses all these issues.
Customers can choose from several different subscription options, from bouquet size to delivery frequency. A simple online/mobile interface permits editing of order options and preferences, so it's easy to change the address, time, or day of delivery, or even pause an account at vacation time. Plus, delivery is included in the subscription price, and there are no membership fees.
Crawford has added another personal touch to the novel subscription service. Each product category (Petite, Standard, Bounty, and Wreath) is named after a relative or friend who nurtured his own love of flowers. "With a personal connection like this, we're compelled to live up to our core values of quality, sustainability, and commitment to service in every transaction," he comments.
People are already talking about the convenience of Club Botanic and the quality of its products. Notes customer Michael Durand, "My experience with Club Botanic has been beautiful, literally. The flowers are fresh and long lasting. I love that there is no delivery fee, plus I can make changes to my order right from my phone. My apartment always feels bright and colorful now."
The Club Botanic website is now live and taking orders. Visit http://www.clubbotanic.com for more information.
About Club Botanic
Founded by Billy Jim Crawford, an enterprising marketing exec turned floral designer, Club Botanic is based on the premise that flowers are supposed to be beautiful, uplifting, and fun. Club Botanic's mission is simple: spread happiness by making it easy and convenient to bring the color, fragrance, and beauty of fresh flowers into the home or workplace. The business is grounded in the core values of quality, sustainability, and a commitment to the highest level of service, and supported by a streamlined ordering system and robust technology backbone to accommodate customer schedules and preferences.