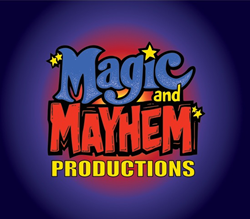 (PRWEB) October 06, 2015
Who said team building can't be fun? As National Magic Week approaches this month, Magic and Mayhem Productions are taking their applauded customizable and mobile entertainment team to the corporate level by providing highly-successful professional workshops and seminars that make an impact. Specializing in presenting practical professional development content that is entertaining, relevant, and, most importantly, memorable, Magic and Mayhem presentations use interactive learning techniques to illustrate important concepts with humor and by performing magic effects to make the principles enjoyable and unforgettable for participants.
"Smart organizations and companies have realized that business and staff development seminars must be engaging to have sufficient impact to justify the commitment of time and resources. Merely being topical and entertaining isn't enough," says Founder of Magic and Mayhem Productions James Songster. "Unlike many other presenters, with our extensive real world backgrounds, we take the average workshop and create an engaging professional development experience that is unlike any other."
Together, James Songster and the members of the Magic and Mayhem team bring over 35 years of experience in "real jobs" in the corporate world working with some of the leading corporations, colleges and universities, working in corporate management, program delivery and training and with staff and organizational development for entertainment industry leaders including The Walt Disney Company, Universal Studios, Harrah's Entertainment and Gaylord Hotels.
See Magic and Mayhem in action at https://youtu.be/kH3MwliUjBA. To inquire about Magic and Mayhem hosting a workshop or seminar for your business or organization, and for more information on Magic and Mayhem's comedy magic show offerings, call 407-222-4412 or visit http://www.MagicandMayhemShow.com.
About Magic and Mayhem Productions
Founded by award winning magician James Songster in 1997, the locally owned and operated Magic and Mayhem Productions is comprised of a diverse team of talented and entertaining performers. Each year, Magic and Mayhem Productions present over 400 performances of engaging, family-friendly and theatrical comedy magic at a variety of venues including festivals, special events and banquets. In addition, they also offer corporate workshops and seminars where they provide custom magic-based team building exercises. Magic and Mayhem Productions includes customizable theater-style experiences for any size group, organization or visitors to Central Florida through one of the many tour operators. For groups and associations looking to have the magic come to them, Magic and Mayhem Productions offers the professionalism, adaptability and appropriate fun that Central Florida is famous for.
MEDIA CONTACT: Ilene Lieber, 321-277-7812, ilene@passionprconsulting.com