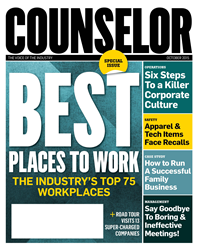 As companies battle for skilled workers, they need to focus their attention on employee retention, and right now that means appealing to the changing needs of today's workers, said Counselor Editor Andy Cohen
Trevose, PA (PRWEB) October 06, 2015
Counselor® magazine today named Florida-based supplier The Book Company number one on its annual list of 75 best places to work in the $21.5 billion promotional products industry.
The 16-employee The Book Company, of Delray Beach, FL, was founded by Doug Greenhut and supplies blank and customized books. Surveyed employees cited the company's refreshing flexibility and fun, laid-back atmosphere as key ingredients of a winning corporate formula.
"In short, a company that is a best place to work makes a deeper connection to its employees than can normally be found at companies today and goes out of its way to ensure the pure happiness and satisfaction of its employees," said Counselor editor Andy Cohen. "As companies battle for skilled workers, they need to focus their attention on employee retention, and right now that means appealing to the changing needs of today's workers."
Counselor magazine, published by the Advertising Specialty Institute® (ASI), delivers award-winning content to industry leaders, distributor decision-makers and top salespeople throughout the promotional products industry. Its annual Best Places to Work issue profiles several of the 75 companies on the 2015 list and offers information on how to create a great workplace, from motivating employees and retaining top talent to creating unique jobs and celebrating staff accomplishments.
Logoed promotional products like pens, caps, T-shirts and electronics are typically given away free by companies, schools and organizations to advertise their brand or event and to thank employees or clients.
This year, for the first time, Counselor teased out the 75 best companies in advance of the print and online issue, one day at a time, on ASI's website and using Twitter hashtag #BPTW2015.
The vast majority of the top-ranked companies are in the U.S., with seven based in Canada. California and Illinois topped the states with the most "best" companies at eight each. There are 55 distributors and 20 suppliers in the overall rankings.
The top 10 best places to work are:

The Book Company, Delray Beach, FL
InkHead, Inc., Winder, GA
Proforma Albrecht & Co., Milford, OH
imprintID, Arlington, VA
Corporate Imaging Concepts, Northbrook, IL
HP2 Inc., Phoenix, AZ
Dri Duck, Overland Park, KS
IDProductsource, Port St. Lucie, FL
Proforma, Independence, OH
Piel Leather Inc., Torrance, CA
To see the complete list of 75 companies and to read the Best Places to Work issue, click here.
To help determine what separates a best place to work from all the rest, Counselor editors personally visited industry companies throughout the U.S. and Canada during the 2015 Counselor Best Places to Work Road Tour.
The list is a mix of large and small, geographically diverse companies identified by an in-depth survey process. Counselor partnered with third-party research firm Quantum Workplace, which conducts Best Places to Work contests in numerous major cities. Employees at nominated companies filled out a 37-question survey and rated their companies in 10 different disciplines ranging from team effectiveness and trust in coworkers to manager effectiveness, trust in senior leaders and goal alignment.
For more info about the Best Places to Work road tour and issue, contact Counselor Editor Andy Cohen at acohen(at)asicentral(dot)com.
About ASI
The Advertising Specialty Institute (ASI) is the largest media, marketing and education organization serving the promotional products industry, with a network of over 25,000 distributors and suppliers throughout North America.