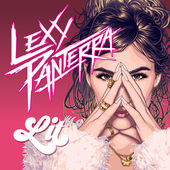 Los Angeles (PRWEB) October 07, 2015
The world's most famous twerker is at it again and this time it's to her own music. Lexy Panterra took the internet by storm this summer when her twerk freestyle to "Lean On" went viral with over 100 million collective views! The viral video as enhanced her already successful career. Before the video Lexy was all over the news for her popular twerk exercise classes that attracted major celebrities such as Mel B, Tameka "Tiny" Harris, Karrueche Tran, and Christina Milian. Lexy is also a regularly seen on several TV shows, including The Real, E! News, On Air with Ryan Seacrest, BET, TMZ, The Late Show with Stephen Colbert and she is a cast member on Christina Milian Turned Up. Lexy Panterra and Christina Milian also released an instructional twerking app that made international headlines.
Now Lexy is using all of this exposure to bring her two passions together. On October 2nd she released her new single on iTunes entitled "Lit". Music fans have been raving over Lexy's smooth and sexy vocals and the buzz has inspired her to release a twerking video to the song on an all new YouTube channel.
The release of "Lit" is just the first drop of several singles Lexy is releasing over the next month. When asked for her comment on the success of her new video and music, Lexy Panterra had this to say, "I am so happy that my fans are supporting the new music and videos. Dancing and singing are my biggest joys in life and to bring them together is a thrilling moment in my career. I want to thank all of my producers and my creative team and I promise there is much more in store for 2015."
All of Lexy's music videos and trailers will be released on her new YouTube channel http://www.youtube.com/LexyPanterra For booking information visit http://www.LexyPanterraOfficial.com and for media inquiries contact Domenick Nati of Nati Celebrity Services at DNati@NatiCelebs.com
###
http://twitter.com/AlexisPanterra
http://instagram.com/LexyPanterra
http://facebook.com/LexyPanterraOfficial