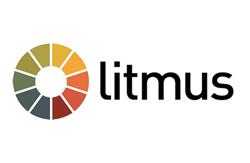 Cambridge, MA (PRWEB) October 07, 2015
Litmus, a web-based email creation, testing and analytics company, today announced major product updates that will change the way brands build, test, and monitor email. Litmus' reimagined platform shaves hours off the email creation process, enabling the entire email marketing function to consistently send impactful emails that will drive the next innovations in subscriber experience.
Upon launch, all current Litmus users have access to the updated platform and new users can sign up at litmus.com. The reimagined platform moves testing into the building phase, allowing email marketers to see how their email will look across popular email clients and devices. The massive innovation means every brand can now send email with confidence, and former testing hours can be rededicated to email innovation that will improve subscribers' experiences, while driving brand loyalty and purchasing decisions.
Litmus designed its platform to align with how designers and marketers actually work, and that means speed, mobility, measurement, and a level of flexibility that allows for constant creativity. The updated platform delivers on this with key additional features, including:

Instant Previews: Testing email across different programs and devices can take hours when done manually. This means testing is reserved for the largest brands with dedicated email resources. For the rest, hitting the send button comes with the reality that they don't know how their content and design will arrive to their subscribers. With Litmus, testing now takes seconds, completely changing the marketer's workflow to troubleshoot and iterate quickly. It's never been easier to craft the perfect email, and that simplicity makes it accessible to everyone.
Checklist: This comprehensive review is designed to give every email marketer confidence when sending content to their subscribers. Checklist literally checks emails throughout the building process to alert users to common mistakes such as broken links, broken images, and much more. It is based on years of Litmus research and millions of email sends, ensuring that it provides expert advice every step of the way and, most importantly, long before the send button is pressed.
Email remains the primary form of communication and retention, and the most direct way to drive revenue for companies. With a typical return of 45:1 on every dollar invested, email is the best ROI for digital marketers. But the complex landscape of email clients and devices puts pressure on marketers to create compelling content, while navigating the technology behind email. These challenges often lead to poor strategy and defective email, which can damage the subscriber experience and result in customer loss.
"Email subscribers are one of the most valuable assets for brands today," said Paul Farnell, co-founder and CEO of Litmus. "The challenge is that running a great email marketing program is incredibly complex. With this update, users get the support they need to create beautiful, more impactful email, while cutting hours out of the process. We're helping marketers confidently hit send, and giving them the freedom to focus more time on creating the next innovations in email."
Litmus was started to help email designers ensure their creations arrive perfectly to every inbox. Today, it has expanded its focus to include the tools and resources everyone on an email marketing team needs to create better email and an exceptional subscriber experience. Today, more than 100,000 customers use Litmus to simplify their workflow and make email better. Litmus also has 125 API partners across brands, including MailChimp, Salesforce, and Campaign Monitor.
About Litmus Software Inc.
Litmus helps more than 100,000 marketers make email better. The web-based email creation, testing and analytics platform empowers marketers, designers and agencies to confidently deliver a superior subscriber experience. Litmus provides instant email previews and quality assurance tools across all major inbox providers, browsers, and devices, and features comprehensive analytics to help users quickly and easily build, test, troubleshoot and optimize every campaign. Headquartered in Cambridge, Mass., with additional offices in London, Litmus has partnered with more than 225 major email service providers and agencies, including MailChimp, IBM Silverpop and BrightWave Marketing. For more information about Litmus and the latest email news and trends, visit http://www.litmus.com.