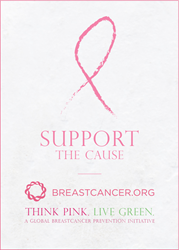 Chan Luu pledges 10% of all proceeds for the month of October to BreastCancer.org.
Los Angeles, California (PRWEB) October 08, 2015
Jewelry designer Chan Luu is pleased to announce their continued partnership with BreastCancer.org for the month of October.
For the fifth year running, Chan Luu will continue to show support to BreastCancer.org. This year, 10 percent of all proceeds for the month of October will be donated to BreastCancer.org in order to help fund the fight against breast cancer. The campaign, titled "Think Pink. Live Green," is presented as a way of living that not only helps educate women on ways to reduce their risk of developing breast cancer, but also to limit recurrence of the disease in survivors. In addition, the initiative seeks to educate those living with advanced stage breast cancer in order to help them make the healthiest choices possible moving forward.
An avid breast cancer activist herself, founder and designer Chan Luu said, "The 'Think Pink, Live Green' initiative brings people together to help educate how to prevent breast cancer through making smart lifestyle choices. The development of breast cancer is only 30 percent genetic; the rest is the choices we make in the way that we live our lives."
Chan Luu began supporting Breastcancer.org in 2011, and since that time, has donated more than $430,000 to the cause; estimated to have impacted more than 300,000 women. Founded in 2000, Breastcancer.org is a nonprofit organization dedicated to providing the most reliable, complete, and up-to-date information about breast cancer.
The 10 percent proceeds pledge will apply only to sales made at the Chan Luu online boutique during the month of October.
About Chan Luu
Chan Luu is a designer of jewelry, accessories, and ready-to-wear apparel. Originally from Vietnam, she launched her first women's accessories collection in the United States in 1996, marking the start of the Chan Luu brand. Chan Luu's trademark is her artistic ability to combine organic shapes with contemporary ideas. In 2001, Chan designed the first wrap bracelet that has been a staple in her seasonal jewelry collection for over a decade, becoming a popular style worldwide. Chan's passion is to create jewelry, accessories and apparel that are unique, inspired by cultures from around the world and most importantly individually handcrafted. Her pieces have been featured in the top fashion magazines and have adorned Hollywood's hottest celebrities. To view available jewelry, apparel, and accessories, visit http://www.chanluu.com.