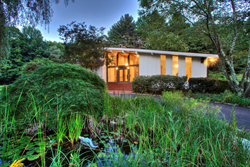 Wilton, Conn. (PRWEB) October 08, 2015
William Pitt Sotheby's International Realty announced today that the firm has listed a contemporary home once owned by Ace Frehley, guitarist of the legendary American rock band KISS. The Wilton, Conn. estate is represented by Wilton agent Ryan Cornell, and offered at $1,150,000.
Ace Frehley, often referred to as "Spaceman" or "Space Ace," is an American musician best known as the lead guitarist and founding member of the rock band KISS. The iconic band formed in the early 1970s in New York City, eventually rising to prominence with their elaborate live performances, stage outfits and defining painted faces. With worldwide album sales exceeding 100 million, KISS is one of the best-selling bands of all time.
Owned by Frehley during the height of the band's emerging popularity, this spacious, modern residence boasts striking angles, as well as an open-air feel with multiple glass walls and windows to embrace the natural light. Fully equipped with updated amenities, the property contains an attached recording studio that was built by Frehley, and allegedly used by Jerry Garcia of the Grateful Dead. The space has since been converted, but could still be used as a recording studio, yoga studio or workout area. There is room for up to seven cars.
The property, which includes over three acres of sweeping lawns and surrounding woods, greets visitors with a pillared iron gate, stone bridge and windy, long drive that leads to a circular courtyard featuring a water garden and babbling waterfall. A 70-acre vegetable farm neighbors the pristine grounds, adding to the home's private, tranquil atmosphere. The five-bedroom residence is strategically structured with bedrooms on one side of the house and leisurely spaces on the other. The lower level offers a media room with an automatic retractable theatre-sized screen, HD projector and powerful surround sound, plus a colorful playroom, separate office and homework or music room.
"The home is utterly breathtaking," said Cornell. "The estate's meticulous renovation goes beyond today's typical comforts and luxuries, offering a sleek environment that surely lives up to its legendary past. I look forward to telling its story, and representing such a beautifully built, iconic home in town."
The residence is both highly efficient and high-tech, featuring LED lights, solar powered skylights, radiant floor heating, as well as smart phone control capabilities. A luxury chicken coop containing a solar-powered exhaust fan, electric fence and automatic door that opens at dawn and closes at dusk, completes the property.
For more information on the property, located at 29 Tito Lane, please visit the company's website here.