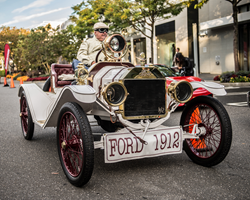 Manhasset, NY (PRWEB) October 09, 2015
Sunday, October 11, Americana Manhasset will host the 11th Annual Concours D'Elegance to benefit Sunrise Day Camp.
The event will feature 150 privately owned cars competing for best in class and best in show. This year's roster of exquisite cars includes:

1965 Alfa Romeo 2600 Zagato
1987 Aston Martin V8 Vantage X-Pack
1954 Ferrari 250 GT
1965 Ford GT40
1959 Jaguar XK-150S 3.4 Roadster
1967 Jaguar E-Type 4.2L Series 1 Roadster
1974 Jaguar E-Type Series III
1969 Mercedes Benz 280SLRoadster
1909 Oakland 20B
Porsche 919 Le Mans Car
Porsche 959
Pininfarina P4/5
1930 Voisin C14 0 one of 7 "chartreuse"
Bespoke Motor Group and Bentley of Long Island is proud to debut the Bentley Bentayga SUV at the Americana Manhasset Concours d'Elegance!
Judging of cars begins at 9am. The awards ceremony is at 2pm.
Photo and interview opportunities can be arranged.
Event Location: Americana Manhasset. 2060 Northern Boulevard. Manhasset, NY 11030.