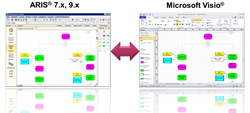 This TransWare BPM-X® solution lowers application costs and greatly increases acceptance to create, maintain and explore business process documentation.
Kusel (PRWEB) October 12, 2015
The translation for ARIS® 7.x and 9.x to Microsoft Visio® 2010, 2013 and 2016 allows the seamless migration of complete ARIS installations into the Microsoft world. The ARIS models will be fully translated and mapped 1:1 into the widely used Microsoft Visio tool. As Microsoft Visio® is very familiar for both IT and Office users it is acknowledged as a competitive alternative to costly and more complex modeling tools like ARIS® the more so as it provides a fully equivalent representation of the original models and diagrams. Model data and diagram graphics can be stored either in Windows filesystem, in Microsoft SharePoint® or in MSQL database.
The translation comprises all custom data and symbols of the ARIS® Filter and Template. The resulting deliverables in Visio are identical to the ARIS originals in all aspects of data and appearance. Solution details can be found at the product website http://www.bpm-x.com/integrate-aris-platform-with-visio.html.
The so-called BPM X® Designer is an optional Visio® add-on that comes with a unique synthesis of intuitive simplicity in business diagram design along with the rigid enforcement of process modeling standards ensured with an intrinsic control of consistency of modeling languages such as EPC or BPMN. More details can be found at the product website http://www.bpm-x.com/products/microsoft-visior-for-business-process-modeling.html.
Learn more about the simple and easy way of translating ARIS® to Visio® from the blog post and video at http://blog.bpm-x.com/?p=734 .
TransWare AG develops and markets the BPM-X® product suite http://www.bpm-x.com. BPM-X® is an Enterprise Application Integration (EAI) software specialized in model and diagram translations. It offers the integration of non-transactional data between a variety of modeling tools, formats and methodologies.
Microsoft, Visio and SharePoint are registered trademarks of Microsoft Inc., USA. ARIS is a registered trademarks of Software AG, Germany and other countries. BPM-X is a registered trademark of TransWare AG.