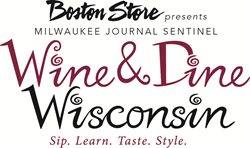 Milwaukee, Wisconsin (PRWEB) October 09, 2015
The Milwaukee Journal Sentinel's Wine & Dine Wisconsin, presented by Boston Store, Wisconsin's premiere culinary event. Wine & Dine Wisconsin is open October 10th and 11th from 11 am to 5 pm at the Wisconsin Center in downtown Milwaukee, and is restricted to individuals 21 years of age and older.
Wine & Dine Wisconsin provides the opportunity to sample bite-sized eats and drinks from numerous restaurants and bars, while also meeting chefs and other personalities. Some vendors offer samples of their latest fall menu additions while others offer traditional favorites. For just $50, attendees can sample bite-sized eats from Wisconsin restaurants, participate in cooking demonstrations, and learn from the area's chefs and culinary personalities such as Chef Michael Feker, Kyle Cherek of Wisconsin Foodie and Inga Witscher of Around the Farm Table. Visit the Wine & Dine Wisconsin website for a complete list of presentations and demonstrations.
Wine and Dine also features Critic's Choice, an area that contains a selection of restaurants from Milwaukee Journal Sentinel Food Critic Carol Deptolla's Top 30 Restaurants list. Critic's Choice is open on Saturday only and requires the purchase of a Critic's Choice ticket for entry.
We're excited to announce our confirmed vendor list! Please note not all vendors attend on both days of the event.
45th Parallel Spirits LLC
A Taste of Great Brewers
Acupuncture & Holistic Health Associates
AMA Waterways
Amy's Candy Kitchen
Anodyne Coffee
Artisan 179
Artisan Cheese Exchange
Ball'n Biscuit Catering
Bartelt. The Remodeling Resource
Belgioioso Cheese
Bittercube
Blooming Lotus Gourmet Bakery
Blue Moon Brewing Co.
Boston Store
Brenner Brewing Company
Bright Cellars
Carrabba's Italian Grill
Cedar Creek Winery
Celebrity Cruise Line
Ciderboys Hard Cider Co.
City Tins
Classy Girl Cupcakes
Clock Shadow Creamery
Colectivo Coffee
Cooper's Hawk Winery
Costco Wholesale
Crispin Ciders
Cruise One
Culligan Water
Cutco Cutlery
Devon Seafood & Steak
Dickey's Barbeque Pit
Door Peninsula Winery
East Shore Specialty Foods
Feeding America Eastern Wisconsin
Forest Floor Foods
Founders Brewing Co.
Fred Astaire Dance Studios
From Milwaukee With Love
Funjet
Goose Island Beer Co.
Great Lakes Distillery
Great Northern Distilling
Hoegaarden
Indulgence Chocolatiers
Jaguar -Waukesha
Kil@wat
Kitchen Aid
Klondike Cheese
Lagunitas Brewing Company
Leffe
Leine Lodge
MATC
Maggiano's
Magner's Irish Cider
Majave Hot Sauce
McCormick & Schmick
Miller Time Restaurant & Pub
Milwaukee Food & City Tours
Milwaukee Chophouse
Milwaukee Journal Sentinel
Milwaukee Public Television
MKE Brewing Co.
Movida Restaurant - The Food & Drink of Spain
Mr. Dye's Pies
Noble View Cheese Company, Inc.
Noodles & Company
Peroni
Philly's Premium Beverage
Pick 'n Save
Pilsner Urquell
Pretzilla - Miller Baking Co.
Prime Minister
Refined Renovations, LLC.
Rice 'n Roll Bistro
Rushing Waters Fisheries - The Trout House
Safehouse (Marcus Restaurant Group)
Sartori Cheese
Sassy Cow Creamery
SoulBoxer Cocktail Co.
Sprecher Brewing
States Self Storage Management Co.
St. Francis Brewery Co. & Restaurant
Stella Artois
Stella Cidre
Stevens Point Brewery
Superior Culinary Center
Tabal Chocolate
The Cheel
The Fundamental Kitchen
The Home Improvement Network
The Nutman Co. USA, Inc.
The Spice House
Top Note Tonics
timothyj kitchen & bath
Twisted Cork
Vines to Cellar Winery
vonStiehl Winery
Water Street Brewery
Wausome Crackers
WI Self Storage West Allis, LLC
Widmers Cheese Cellars
Wisconsin Craft Beer Pavilion
Wisconsin Milk Marketing Board
Wollersheim Winery & Cedar Creek Winery
Woodchuck Hard Cider
Ying's Kitchen
Visit wineanddinewisconsin.com for tickets, food and drink recipes, newsletter subscription, and for a list of exhibitors and sponsors. Wine & Dine Wisconsin is proud to be a charitable partner with Feeding America.
This year's Wine & Dine Wisconsin wouldn't be possible without our sponsors Boston Store, Bittercube, Pick'n Save, Marcus Corporation, HH Gregg, Miller Coors, CruiseOne, Steinhafels, Wisconsin Milk Marketing Board, Skate America, Beechwood, Timothy J, MATC, MPTV, and Wisconsin Foodie.
Ticket Information
Saturday General Admission Only: ($50 online, or $60 at the door) Includes access to all of the vendors, presentations, and hands-on demonstrations on the main floor.
Saturday Critic's Choice: ($85 online, or $95 at the door) The Critic's Choice ticket includes General Admission and grants access to Wine & Dines special Critic's Choice area. Critic's Choice is open from 12pm-3pm on Saturday ONLY.
Sunday General Admission Only: ($40 online, or $50 at the door) Includes access to all of the vendors, presentations, and hands-on demonstrations on the main floor.
About Wine & Dine Wisconsin:
Wine & Dine Wisconsin is your place to sip, taste and learn – in style. Samples include wine, microbrews, craft cocktails and bite-size previews of what you'll find when you visit the greater Milwaukee area's restaurants. The 2015 event will be held on October 10th-11th at the Wisconsin Center in downtown Milwaukee.
About Boston Store
Boston Store consistently offers a wide selection of unique and limited-distribution merchandise and competitively priced national and private brands tailored to the lifestyle needs of our customer. We provide our customer with an innovative and convenient shopping environment, attended by friendly and knowledgeable associates. Our website reaches out to all of our customers and allows us to serve markets that extend well beyond the geographical boundaries of our stores.
About Milwaukee Journal Sentinel
Milwaukee Journal Sentinel prints the Milwaukee Journal Sentinel newspaper as well as a range of other print and electronic products, including JSOnline.com, primarily serving people and businesses in southeast Wisconsin. The Milwaukee Journal Sentinel offers a bundled subscription for both print and digital or digital-only subscribers with added applications for both mobile devices and tablets. Journal Sentinel is committed to providing news coverage that reflects the ever-changing world and fulfills the needs of readers and advertisers both in print and online.