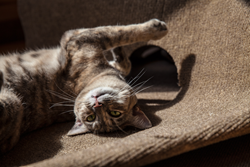 The Today Show experience was the perfect springboard for a new small business like ours.
Gilboa, NY (PRWEB) October 13, 2015
The Ruckel's cat play-space, a first-of-its-kind pet product, named the Ripple Rug, has been 100% designed, manufactured and packaged in the USA.
The husband and wife team entered their Eco-friendly Ripple Rug into NBC's 'Next Big Thing' competition, a new segment live on NBC's 'Today Show'. With approximately two thousand entries submitted, the Ripple Rug was selected as the only finalist in the pet category. The Ruckels were one of nine different category finalists to present their product on 'Live' the Today Show.
"When we received the call from NBC," Fred explained, "We were very excited about the opportunity, and also a bit nervous. We've been working around the clock since we came up with the concept early in 2015. Our biggest challenge to date has been ensuring that our product is made in the USA and that the manufacturing quality of the Ripple Rug is of the highest standard".
"We adore our snuggly cat Yoda," says Natasha "We only want her to have the best possible product, so that she can be herself, not destroy any furniture and follow her natural cat-instincts, like clawing, hunting and napping. As such, we have applied a range of rigorous tests to ensure that the Ripple Rug meets our stringent criteria."
During their development phase, the Ruckels discovered that a high percentage of US companies source their materials and manufacturing overseas, in an attempt to keep costs down. "Our product costs more to produce as it is 'Made in the USA', but we feel it is important to help the US economy by providing work in the textile industry, an industry that has suffered significant losses to foreign manufacturing." explains Fred.
"We were even astonished to discover that over 90% of labels that read "Made in the USA" are actually manufactured abroad," reveals Fred. "After countless hours of searching we were able to locate a US-based company in Tennessee to produce our woven labels."
On Wednesday September 30th, 'Today's Next Big Thing' was hosted by NBC's Matt Lauer. The esteemed panel of judges included NBC's Al Roker.
"The Today Show experience was the perfect springboard for a new small business like ours," says Natasha, "Both the production team behind the competition and the judging panel were all helpful and supportive of us."
The Ripple Rug can be found on the Ripple Rug website http://www.ripplerug.com , as well as a well-known e-commerce retailer.