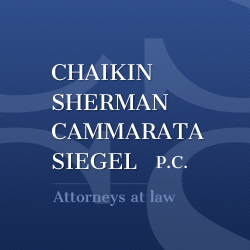 Washington, DC. (PRWEB) October 09, 2015
Chaikin, Sherman, Cammarata & Siegel, P.C. Partner Joseph Cammarata and Associate Attorney Matthew Tievsky have successfully defeated a motion to dismiss a pending defamation lawsuit against Bill Cosby. The motion - filed by Mr. Cosby in the United States District Court, District of Massachusetts (Case 3:14-cv-30211-MGM) - was denied in its entirety by Judge Mark G. Mastroianni.
Cosby's motion to dismiss came in response to a defamation lawsuit filed by Mr. Cammarata in December, 2014 on behalf of Tamara Green. In the lawsuit, Ms. Green alleged that she was sexually assaulted by Mr. Cosby in 1970s, and that her name and reputation were subsequently defamed by Mr. Cosby after she went public with her story.
The lawsuit was amended in January to include two additional women - Therese Serignese and Linda Traitz - who allege they were sexually assaulted by Mr. Cosby, and that they were also defamed by statements released from Mr. Cosby after publicly stating their claims. All three women, court records show, claim that statements made by Cosby, through his attorney and publicist, publicly denounced their allegations.
In response to the motion to dismiss, Attorneys Cammarata and Tievsky vigorously rejected the arguments raised by Mr. Cosby. The lawyers established that Mr. Cosby was wrong both factually and legally. The Judge agreed with the positions advocated by Mr. Cammarata and Mr. Tievsky.
By denying Mr. Cosby's motion to dismiss, the judge has allowed the defamation lawsuit to proceed. It is an important victory in the case, and one that will provide Ms. Green, Ms. Serignese, and Ms. Traitz, as well as other alleged victims, the opportunity to litigate the merits of their claims.
According to Mr. Cammarata, these women will now continue to make their voices heard in a forum where the truth can be tried. "This is a wonderful day. As we expected, the judge rejected every one of Mr. Cosby's attempts to throw the case out of court and allowed the case to proceed. We will take Mr. Cosby's deposition at the earliest possible moment. My clients look forward to moving the case forward and to restoring their good names and reputations."
Joseph Cammarata is a dual board-certified civil trial attorney and Partner at Chaikin, Sherman, Cammarata & Siegel, P.C. He has earned national recognition for his trial advocacy, record of success, and handling of high profile cases. Associate Attorney Matthew Tievsky has been recognized by the 2014 and 2015 editions of Washington, D.C. Super Lawyers® Rising Stars℠, and works with the firm to represent injured and wronged clients throughout Maryland, Virginia, and Washington, DC. For more information, visit http://www.chaikinandsherman.com.