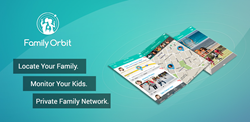 I think that the idea is great, especially if you have kids but can't follow them everywhere personally.
San Jose, CA (PRWEB) October 13, 2015
AppObit LLC today announced the immediate availability of their mobile app Family Orbit in Apple AppStore and Google Play. Family Orbit is an app designed to bring the whole family together into one private network where they can share photos, contacts, locations and look after each other.
Family Orbit allows the creation of private groups for one family and provides adult supervision of young children. They can locate each other at any time of the day on a real-time map, and share photos, contacts, locations, and messages with each other. Parents can setup virtual geo-fence and get notified automatically once the child arrive or leave specific place. The child can send Panic alerts during emergencies or request a pick-up from whoever is near-by.
"I think that the idea is great, especially if you have kids but can't follow them everywhere personally.", said Adriano Ferraro, beta tester for the app, "And not just for safety, but you can also interact with the family, which is very nice nowadays that people use the phone more than talking with others face to face."
The key features of Family Orbit are:

View an Activity Wall with Family News generated automatically
Track each member's location on a real-time map
Create Family Places like Home and School and be notified automatically (by push notifications and emails) when they arrive or leave
Check In or Send Panic Alerts to family members
Share Photos privately and securely with everyone in the family
The software allows the creation of child accounts, turning it into parental control software, allowing guardian members to:
1. Monitor "all photos" snapped with the phone's camera applications
2. Monitor "all contacts" added to their address book
3. Monitor device information like Wi-Fi details and battery information
4. Set up Speed Limits and be notified when their teenager is driving over the limit
5. Children can check which guardian is nearby and request them to pick them up.
Family Orbit is now available in Google Play and iTunes AppStore.
Website: http://www.familyorbit.com
AppStore: https://itunes.apple.com/us/app/family-orbit-family-locator/id1041685597?ls=1&mt=8
Google Play: https://play.google.com/store/apps/details?id=com.appobit.familyorbit
About AppObit LLC: Founded in July 2015 – AppObit LLC is a new startup dedicated to creating apps for family safety and security.
Press Kit: http://www.familyorbit.com/dl/presskit.zip