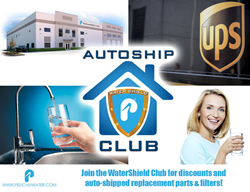 Deland, Florida (PRWEB) October 13, 2015
Pelican Water Systems is excited to announce their new Water Shield Club.
The Club is active now, free to join, and available to all customers. Membership is highly lucrative, boasting several benefits, including the following:

10% off of your initial system purchase
15% off pricing of replacement filters and UV lamps
Replacement values locked in for five years from time of purchase
Free shipping on all orders totaling $49 or more
Monthly prize winners for filter replacement purchases
In addition, members will receive Emails with exclusive alerts and deal pricing not available to the public.
Once customers have signed up for membership in the club, we will guide them in selecting the filters that will work best for their home systems and inform them on how often they should be replaced. At this point customers are able to sign up for auto shipment for filters, freeing customers from the obligation of remembering when to replace filters and the hassle of manually ordering them each time.
"Join the club and let us take away the hassle of calling and remembering to replace your filters," said Pelican Water's Director of Marketing, Robert Prentice, "By streamlining the replacement process and simultaneously offering greater discounts, Pelican Water is able to continue to best serve the needs of our customers. And providing the best service possible to our customers is a commitment we're proud to stand by."
Systems eligible for inclusion in the club include items from Pelican Water's drinking filters, shower filters, UV systems, and reverse osmosis system lines.
The club is offered with no contractual obligation. To join, customers should visit [landing page].
For additional information or assistance with membership, customers can also call 1-877-842-1635.
About Pelican Water Systems
PelicanWater.com is the official, factory-direct retail website for Pelican Water Systems, providing professional knowledge and leading technologies in whole house water filtration, countertop water filtration systems, UV bacteria disinfection systems, as well as salt-free water softening and conditioning systems. Pelican Water products use cutting-edge technology and enable customers to go green by eliminating wasteful and harmful salt brine discharge that is polluting our valuable fresh water resources.
For over a decade, Pelican Water has stayed true to their mission statement: being a company that helps families enjoy cleaner, safer, better-tasting water in their homes in an environmentally-friendly way. Pelican Water has been and continues to be the global market leader in salt-free water softening system. For more information about Pelican Water Systems, visit PelicanWater.com.