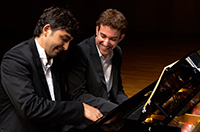 Owings Mills, MD (PRWEB) October 14, 2015
On Sunday, November 7, 2015, at 8:00 p.m., the Gordon Center for Performing Arts presents the Israeli and Palestinian pianist pair Duo Amal. From the seeds of one of the world's most enduring conflicts comes an inspiring musical collaboration, as two classical pianists -- Yaron Kohlberg and Bishara Haroni -- find harmony and a peace their nations have yet to enjoy.
Their name, 'Amal', means hope in Arabic -- a Palestinian and an Israeli, playing as one. And their aspirations are great -- to achieve top musical form together and inspire the outside world to pay attention and work – together as well – to alleviate Middle Eastern tension.
Israeli Yaron Kohlberg is the winner of many prestigious international prizes, including a first prize in the Parnassos International Competition in Monterrey. He has appeared as a soloist with major orchestras around the world and performs regularly in chamber music concerts with the American duo Parnas and with Danish cellist Roke Moldrup.
Palestinian Bishara Haroni plays regularly as a soloist and chamber musician in many famous venues, and collaborates with major orchestras, conductors and instrumentalists. As a concert soloist, he has enjoyed associations with major orchestras in Europe, the United States, Asia and the Middle East.
Joining together, at Kohlberg's suggestion, in 2008, the duo has continued to gain recognition and success by showing how music-making at the highest level can transcend political and national differences.
Previous Duo Amal concerts have taken place in the Beijing Concert Hall, New York's Carnegie Hall, the Copenhagen Piano Festival, Israel Philharmonic, the Palestinian Symphony Orchestra, and in the London City Festival. All in all, the pair has performed in twenty-two countries across the globe.
"With tension rising in the region, this musically rich concert will be a symbol of hope and friendship," says Randi Benesch, Managing Director of the Gordon Center. "We are proud to present, for the first time in Baltimore, these two brilliant musicians, who have come together to share with us a beautiful vision for peace."
Join us for this incredible evening. For press inquiries, please contact Gordon Center publicist Billy Treger at 410.559.3616; btreger@jcc.org. For tickets and additional information, please call 410.356.7469. Please direct all web inquiries to gordoncenter.com.
###
The Peggy and Yale Gordon Center for Performing Arts is Baltimore County's premiere arts destination. The Gordon Center offers an eclectic variety of professional entertainment in music, theater, dance, family programming and film. You will experience world-class acoustics in an intimate, state-of-the-art venue. Free parking in well-lit spaces, handicap accessible, and equipped with a special RF system for the hearing impaired, the Gordon Center can be enjoyed by all.