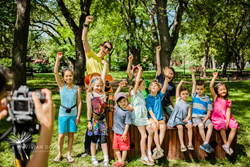 Approximately 20% of North American children suffer from eczema.
Charlotte, NC (PRWEB) October 28, 2015
Approximately 20% of North American children suffer from eczema. The medical condition varies in severity and while many children's symptoms subside by their early teens more than 3% of adults continue to battle the symptoms.
Eczema presents differently in each person but common symptoms include; constantly itchy, often scaling or red, inflamed skin that may affect the entire body from the scalp down to in-between the toes. Dealing with these symptoms in children is particularly difficult as caregivers struggle to help kids comprehend why they can't scratch and often must be lathered in cream several times a day, or wear mitts and full body wraps.
Eczema is a chronic and often relentless condition." says Peter A. Lio, MD, a Clinical Assistant Professor of Dermatology & Pediatrics at Northwestern University Feinberg School of Medicine, a Fellow of the American Academy of Dermatology, and a Diplomat of the American Board of Dermatology. Dr Lio continues "It is sometimes called 'the itch that rashes' since the underlying itchiness drives the cycle of scratching and further inflammation in the skin. It is a taxing problem for patients, but also for families, caregivers and health care providers. We have treatments that offer at least some relief for almost everyone who suffers from eczema, but sometimes the soaks, creams, and wraps can be cumbersome."
Jennifer Roberge knows the daily struggle of eczema, her son suffered from severe eczema for several years. After becoming frustrated by the lack of effective natural eczema treatments available online for children and adults, she created The Eczema Company. The store provides the best natural products for eczema, including skin care, protective clothing and alternative laundry solutions.
Feeling it was important to share information about integrative options for eczema care and to create a supportive community for families facing similar challenges, Roberge founded It's An Itchy Little World blog. Quickly filling a niche in the market, the blog focuses on healing from the inside out with contributions from a variety of industry professionals, alongside families, including her own, sharing their individual challenges and successes.
Roberge states, "Eczema is such a hard thing for any family to go through. A child with eczema is unbearably itchy and often feels consumed by their skin condition with all the constant moisturizing, reminders not to scratch, the stares from onlookers wondering why their skin looks so different. Many kids with eczema feel sad and self-conscious. It's a heavy burden. I know because my son went through it and it took a toll." Jennifer shares "He didn't sleep well and would run away when it was cream time and on top of it he had to deal with me nagging him to stop scratching, when all he wanted to do was find some relief from his itchy skin."
This experience also inspired Jennifer to co-create The Eczema Song with food allergy singer/ songwriter Kyle Dine. The music video launched worldwide October 1 for National Eczema Awareness Month (USA). Roberge says "The Eczema Song is for all the children dealing with eczema. Our goal was to create a song that makes it a little bit more fun to put on their creams, something catchy and uplifting that turns a boring routine for the kids and a stressful task for the parents into more of a silly game to enjoy together." Jennifer continues "We want to make the kids feel like the little superheroes they are. The Eczema Song will remind them that eczema does not define them. They are amazing and loved and beautiful."
And the reviews are already flooding in for The Eczema Song including from 6-year old, Anya who gave her two thumbs up commenting "Eczema is not a reason to frown. The Eczema Song made me happy. You can be itchy and happy; all you need is the right cream!'
Selena Bluntzer, creator of the 2015 Top Allergy Blog Award, Amazing & Atopic, agrees, "For children with eczema, keeping the skin moisturized and protected is key, and this adorable video provides an entertaining reminder to take care of that itch quick! Kyle Dine, as always, brings his jovial style into play, making for a fun and educational ditty!"
About The Eczema Song
The Eczema Song is collaboration between singer/songwriter, Kyle Dine, and Jennifer Roberge, founder of The Eczema Company and Its An Itchy Little World blog. The video is available on YouTube and will soon be available to download on iTunes. Eczema Awareness Month is shedding a national spotlight on the more than 10-20% of kids in North America who suffer from eczema. It's a heavy burden for little ones to bear; the stares from other kids, the unstoppable itch and the struggle of mitts, wraps, and creams. The Eczema Song is dedicated to all the strong, amazing children who have eczema but won't be defined by it.
About Jennifer Roberge
Jennifer Roberge is the award-winning founder of Its An Itchy Little World and The Eczema Company.
Propelled to find a solution for her son's struggles with eczema, allergies and asthma, Jennifer has established herself as the go-to resource on integrative and holistic methods and the best natural treatments for healing both inside and out.
About Its An Itchy Little World
Jennifer's son's struggle with eczema, allergies and asthma led her to create the blog, It's an Itchy Little World, as a way to share and connect with others dealing with similar health conditions. The award-winning blog focuses on healing from within via natural methods and features blogs from leading experts and families just like yours.
About The Eczema Company
The Eczema Company is an online store featuring natural skin care, protective clothing and alternative laundry products to provide relief and healing for children and adults suffering from eczema.
About Kyle Dine
Kyle Dine performs food allergy awareness assemblies for elementary schools across North America. His brand of fun, age-appropriate and educational performances has reached more than one million people through music, puppets and games.