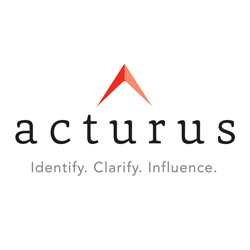 We have a wealth of propriety data to mine and share that is useful to marketers and researchers alike
Farmington, CT, Scottsdale AZ (PRWEB) October 14, 2015
Leading insights consultancy, actûrus, is proud to announce the launch of its new website, http://www.acturus.com. Driven by the merger of The Pert Group and MSS in July, the new website not only reflects a new brand identity, but embodies the truly unique perspective actûrus delivers to its many clients.
The merger allowed actûrus to differentiate from competitors by bridging the powerful connection between buyers and their influencers. This ability enables actûrus to deliver a richer understanding of the how and why of the buying decision, greatly enhancing the value of traditional research. The new website focuses on this all-encompassing approach to consumer insights, demonstrated with compelling industry overviews, sharable proprietary data, and direct access to category experts.
Visitors are immersed in the actûrus philosophy upon arrival to the site. After viewing a brief animation illustrating the consumer/influencer dimension, visitors will find industry overviews highlighting client issues, methodologies, and most importantly, results. The site currently features five of these overviews; additional industries will be added over time.
Also featured on the site are bite sized "nuggets" of sharable data, "We have a wealth of propriety data to mine and share that is useful to marketers and researchers alike. Our best-in-class on-premise marketing research is a great example of what we have available," said Co-CEO and Principal, Kevin Moran. Visitors are encouraged to view the site often and share the latest nugget being promoted.
An informative blog and social media will play a large role keeping the site interactive and engaging as well. With an aggressive schedule for delivering timely and relevant content they provide another way to highlight how the powerful combination of consumer research expertise and trade influencer data delivers results for clients.
The site boasts one final unique feature: direct access to senior leadership. "One of the things that makes our site stand out is that we make it easy for you to speak directly to our experts," said Chris Barnes, SVP of Client Strategy. Access to senior leadership via direct phone line and email address is available by industry and expertise.
actûrus is a leading custom research based consultancy specializing in qualitative, quantitative and multi-sponsored studies. actûrus is unique in its ability to provide an unprecedented 360 by 360 perspective on the powerful connection between buyers and their influence(r)s helping to optimize business and brand performance.