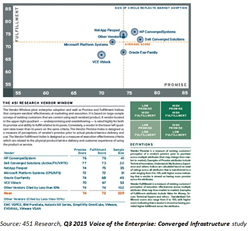 "Speed and ease of deployment rank as top drivers in the shift to converged infrastructure; lack of in house expertise is the biggest single inhibitor, according to end users in our Q3 survey."- Nikolay Yamakawa, Senior Analyst at 451 Research
(PRWEB) October 15, 2015
Just 17% of enterprise IT users will increase spending on traditional servers, while 40% of end users plan to increase spending over the next 90 days on converged infrastructure, according to the results of a new survey launched by 451 Research. The inaugural Voice of the Enterprise: Converged Infrastructure survey also shows that nearly 17% of survey respondents are 'very likely' to switch vendors over the next 90 days.
"Commoditization of x86 systems is catalyzing competition as decision-makers increasingly consider alternatives, including white-box (unbranded) servers. A growing opportunity exists for those vendors that can position their offerings to address key customer needs," said Nikolay Yamakawa, Senior Analyst at 451 Research.
HP Proliant, Dell PowerEdge lead in standard servers; HP ConvergedSystem, Dell Converged Solutions, NetApp and VCE lead in Converged Infrastructure
The study reveals that HP Proliant and Dell PowerEdge stand out with customers as the leaders in the standard server market. Fifty-two percent (52%) of standard server customers are using HP Proliant, while Dell PowerEdge is used by 50% and captured the highest customer ratings. Dell PowerEdge stood out for its product competitiveness and roadmap, ease of management, total cost of ownership (TCO), and sales force quality. HP Proliant gained favorable ratings in performance optimization, ease of deployment/integration, company brand and reputation.
Vendors that rate most favorably among customers in the Converged Infrastructure space include HP ConvergedSystem, Dell Converged Solutions and NetApp FlexPod. VCE Vblock (owned by EMC) leads in adoption among converged infrastructure vendors.
The Q3 2015 survey also shows that, among standard server vendors, Cisco UCS is currently the third-most-cited vendor in use, with 33.9% of respondents reporting Cisco implementations and another 19.3% considering Cisco as an alternate vendor. Furthermore, Cisco remains prevalent in converged infrastructure, with 25.2% of respondents citing Cisco as a vendor. Meanwhile, VCE Vblock and NetApp FlexPod, which captured the highest adoption rates among respondents, both run Cisco UCS server components as part of their converged infrastructure platforms. Additionally, a whole array of newer and incumbent vendors are starting to gain traction with hyperconverged offerings, adding more fuel to the competitive fire.
Adoption of white-box servers is also growing. Approximately 4% of enterprises have installed white-box (unbranded) servers; another 6% are considering a switch to white-box servers from their current standard server vendor.
Yamakawa noted that, "Speed and ease of deployment rank as top drivers in the shift to converged infrastructure; lack of in house expertise is the biggest single inhibitor, according to end users in our Q3 survey."
Forty-three percent (43%) of customers identify ease/speed of deployment and integration as the top benefits of converged infrastructure; lack of staff expertise is cited most often as a deterrent to adoption (41% of respondents).
"The study indicates that one way to ease the transition into the converged space is to identify the gaps in internal skillsets and work with potential vendors to organize the training and proof-of-concept (POC) exercises prior to implementation. Some enterprises can make the transition smoother by evaluating those applications and workloads that will be shifted to ensure compatibility," added Yamakawa.
Webinar
Learn more about the Voice of the Enterprise: Converged Infrastructure research findings on October 29 at 11am EST, during the 'Voice of the Enterprise: Converged Infrastructure Trends and Vendor Window' webinar. Register now.
Voice of the Enterprise: Converged Infrastructure
Published quarterly, Voice of the Enterprise: Converged Infrastructure combines survey-driven analyst reports derived from more than 850 Web-based surveys and 25 one-hour-long in-depth interviews with senior IT professionals based in the US, Europe, Latin America and Asia-Pacific. In addition to budgets and infrastructure metrics, the Q3 2015 survey focuses on Converged Infrastructure and Standard Server vendor customer ratings. To learn more or request information, click here.