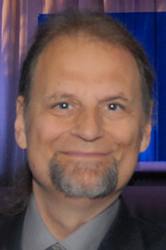 Minneapolis, MN (PRWEB) October 16, 2015
On September 29, 2015, John R. Kohlenberger III, a renowned Bible scholar and a former member of Christians for Biblical Equality's (CBE) board of directors, passed away at the age of 64 after a long battle with cancer.
Kohlenberger was an influential scholar and advocate for the equality of women and men in church leadership. He published over sixty biblical reference books and study Bibles. His best-known work, the NIV Exhaustive Bible Concordance, was revolutionary in its precision and accuracy. Kohlenberger also served on CBE's board of directors from 2000-2005 and 2007-2012, and received CBE's Lifetime Achievement Award in 2011. He spoke and wrote prolifically on the relationship between Bible translations and gender equality in the church, he helped shaped CBE's vision statements, and he served on CBE's board of reference until his death.
"Kohlenberger will be dearly missed, on many levels," said Tim Krueger, CBE's publications and communications manager. "His scholarship was next to none—it is no exaggeration to say that he changed the way English speakers read and understand the Bible. He was an advocate, contributing frequently to CBE's publications, and his work was always of the highest caliber. What is more, he conducted himself with the utmost humility and grace. He embodied what we at CBE strive to be."
CBE's president, Dr. Mimi Haddad, emphasized his character as well, saying "In John Kohlenberger, we had one of the truest friends anyone could hope to know. His many talents were surpassed only by his humility and sense of responsibility in serving the church, especially those who had been unjustly marginalized. He inspired and equipped Christians around the globe with his expansive biblical and linguistic genius. Words cannot express my thankfulness for the privilege of knowing him as a colleague and friend."
Dr. Haddad will speak at a memorial service for Kohlenberger, to be held on Sunday, October 18, 2015 at 2 pm at Eastridge Covenant Church in Clackamas, OR. In lieu of flowers, the Kohlenberger family suggests honoring Kohlenberger by supporting Providence Cancer Center, CBE, or Cascade View Covenant Church in Vancouver, WA.
In its effort to advance a biblical foundation for gift-based rather than gender-based ministry and service, CBE sponsors annual conferences, facilitates local chapters, hosts an online bookstore, and publishes two award-winning journals. For more information, visit http://www.cbeinternational.org.