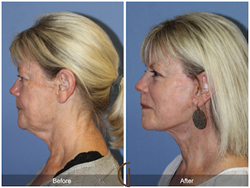 Dr. Sadati concluded that, 'and with the loss of the old stigma, more and more people feel comfortable about coming in and discussing their plastic surgery options.'
Newport Beach, CA (PRWEB) October 22, 2015
Stars feared being asked if they had undergone plastic surgery in the 80s and 90s. With the rise of lasers and injectables, stars could get the help they wanted but be able to be truthful about not having surgery. However, many new stars are now changing this stigma by choosing plastic surgery and speaking freely about their experiences. The article mentions that rapper Iggy Azalea, for example, openly discussed her breast augmentation and rhinoplasty. She stated, "I'm not denying it…denying it is lame." The article concludes that this new crop of Hollywood stars have grown up with the idea that if someone is unhappy with something, he or she changes it. This has rebranded plastic surgery and is certainly removing the stigma.
Dr. Kevin Sadati, board certified facial plastic surgeon, offers a wide range of options at the Gallery of Cosmetic Surgery in Orange County. There, he and his team have noticed the trend in the vanishing stigma of plastic surgery within the office. "Along with the stars, there are others who are excited and proud to share their cosmetic surgery experiences," Dr. Sadati noted. "These experiences have given them confidence. With a simple shaping of the nose, the look of a face can be dramatically changed. If you are feeling your age catching up with your appearance, a facelift can make you look years younger. Today, people are excited about that and want to talk about it." Dr. Sadati concluded that, "and with the loss of the old stigma, more and more people feel comfortable about coming in and discussing their plastic surgery options."
Dr. Sadati, recently voted by his patients as one of the Best Cosmetic Surgeons in Orange County, offers many cosmetic surgery options with a focus on minimally invasive procedures that are performed under local anesthesia and twilight sedation, meaning without general anesthesia. Procedures available include facelifts, neck lifts, blepharoplasty, fat grafting and more, as well as non-surgical options (fractional CO2 laser resurfacing, dermal fillers and BOTOX®) and nose shaping procedures such as rhinoplasty. Also, Dr. Sadati offers a creative approach, thanks to his artistic background as a painter and sculpture, and has been involved in creating and certifying new medical techniques, some of which have since been adopted by other surgeons. Visit http://www.galleryofcosmeticsurgery.com/ to learn more about Dr. Sadati and the Gallery of Cosmetic Surgery.