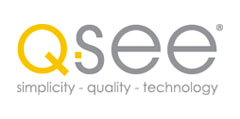 Q-See is proud to announce that none of their products have been impacted by this most recent security breach.
Anaheim, CA (PRWEB) October 27, 2015
Q-See, producers of high definition surveillance materials, remains secure despite recent malware hacks to other cloud storage services. The large malware hack impacts many other surveillance products for the second time in under a year.
For the second time in just six months, a major Trojan horse virus has hacked mobile devices. According to an article published online at eWeek.com, this breach of security left customers using those products exposed to remote DVR access as well as other security concerns.
The most recent breach occurred after a number of companies, mostly Chinese, shared a malicious copy of Apple's mobile development kit, known as Xcode, in an online forum, as opposed to obtaining it directly from Apple, Inc. A Trojan horse malware virus was included in this version of the kit. Consequently, this software was distributed to customers, where it was then downloaded by consumers directly onto their mobile devices. This malware was designed to send the user's personal information directly to the hacker's computer.
Q-See is proud to announce that none of their products have been impacted by this most recent security breach. Through diligent efforts to never cut corners in attaining development kits or rush release of new products, Q-See is able to provide consistently secure products that remain free of malware hacks and security breaches. It is Q-See's constant goal to conduct business with clear transparency and without seeking shortcuts.
Consumer protection and security remain the goal of Q-See.
About Q-See
Q-See is the forward-thinking solution for those who value performance and efficiency without ever sacrificing the user experience. Q-See aims to support consumers and business owners by empowering them to focus on living their lives, because we believe safety is a right for all.
We provide easy-to-use smart surveillance solutions that feature cutting edge technology and enhance the lifestyles of those who use them. Q-See sets industry standards, constantly evolving alongside the ever-changing connected technology landscape. To anyone who wants true peace of mind, Q-See is the smart security brand that provides sleek, user-friendly, and innovative security - because your surveillance system should not only fit, but enhance your lifestyle. Q-See surveillance solutions are widely available through leading online and storefront retail channels as well as a growing base of international distributors. To learn more about Q-See and its products, please visit http://www.Q-See.com.