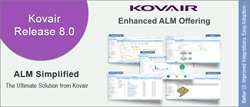 All enhancements in the Kovair Fall Release 8.0 will help users work in an integrated manner. This will ensure proper decision making as well as early delivery of products to the market with better quality
SAN RAMON, CA (PRWEB) October 19, 2015
Kovair Software today announced its 'Fall Release 2015' with the release of Version 8.0 of its products – ALM Studio and Omnibus Integration Platform. With this major release, Kovair extends its support in helping companies bring their innovations to the market.
With this Release, organizations currently using Kovair and those that adopt it will be better equipped to address their challenges of compressed cycle times for product introductions, growing complexity of products, and organizational productivity enhancements across a global development environment.
The Fall Release – Version 8.0 of Kovair product suites focuses on streamlining the process of development in a collaborative manner supporting DevOps as well as offering new and enhanced functionalities in the areas of:

Application UI/UX for better navigation
Project Management
Integrated Test Management
Requirements Management – Introducing Modeling capability and Review module
15 new Connectors added to the existing suite of integrated tools
Timesheet integration through Omnibus
Easy troubleshooting for integration
Scalability and performance improvement for both ALM Studio and Omnibus platforms
In addition, Kovair has extended its integration support to many vendor-specific and Open Source tools for their latest versions.
'Take Collaborative and Informed Decisions' and 'Reach Markets Faster' are the themes of Kovair Fall Release 8.0. The enhancements made in this release will now allow organizations to set up a DevOps environment using their existing set of tools. Incorporation of review module and proactive impact analysis will help users in taking much more informed decisions in a collaborative manner.
"Complexity of application development is growing across the industry due to product variations, globally distributed teams, lack of centralized processes, lack of cross-tool reports & dashboards. With this rising complexity, if organizations fail to grasp the opportunity to transform the way they want to execute their delivery process, then it will be an enormous risk. All enhancements in the Kovair Fall Release 8.0 will help users work in an integrated manner. This will ensure proper decision making as well as early delivery of products to the market with better quality," said Bipin Shah, CEO and Chairman of Kovair.
"In the Release 8.0, Kovair has extended its support for DevOps with the combination of its iTM & Omnibus Integration products. Organizations will now be able to achieve Continuous Integration - CI & Continuous Development - CD with their existing tools integrated through Kovair and ensure quality delivery with end-to-end visibility across projects," said Amit Dasgupta, Director – Product Management and Marketing at Kovair.
The company has set up a web page for Kovair Release 8.0 - http://www.kovair.com/release-8-0/ so that viewers can check the latest advancements and send their comments and suggestions.
About Kovair Software:
Kovair Software is a Silicon Valley software products company specializing in the domain of Integrated Application Lifecycle Management (ALM) solutions and supports global software development and management. Kovair's focus on integrating third party best-of-breed ALM tools enables development of applications in a synchronized tools environment.
Kovair's flagship products the Omnibus Integration Platform, QuickSync, ALM Studio and Integrated Test Management are highly preferred solutions by some of the major corporations globally.