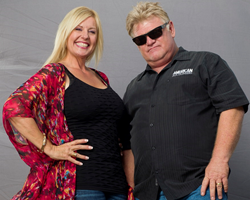 The Dotson's are also offering this website as a way of saying thank you to the industry and the people that have allowed them to become the most recognizable auctioneers on the planet
San Bernardino, CA (PRWEB) October 15, 2015
The storage auction industry will never be the same again. Reality TV fans know Dan and Laura Dotson as the fast-talking stars of A&E's Storage Wars, but now the Dotson's are allowing the viewers to become the bidders.
In October of 2015, Dan and Laura Dotson acquired the web portal StorageAuctions.net to provide a platform to the self-storage industry where they could easily list and sell their unpaid units. The website offers online bidding of listed items and unlike all other online auction systems, StorageAuctions.net is free to sign up and free to list and sell, and relies only on the buyer's premium to fund the site.
Another exciting announcement is the Dotson's will soon be adding a feature that will offer storage auctioneers and management companies around the country the opportunity to conduct their existing live auctions while offering their units to be viewed and pre-bid on by live online bidders. This will bring more bidders to every auction and puts the small-town auctions on the same level as the lucrative big-city auctions.
Dan and Laura Dotson are excited about uniting storage auctioneers locations and buyers throughout the United States to use this revolutionary system as an easy effective way to buy and sell storage units from the comforts of their own home. The Dotson's are also offering this website as a way of saying thank you to the industry and the people that have allowed them to become the most recognizable auctioneers on the planet.
The website is up and running and has already successfully listing and bidding several storage units. To get in on the buying and selling visit http://www.StorageAuctions.net
###
https://StorageAuctions.net
https://twitter.com/StorageAuctnet
https://www.facebook.com/StorageAuctions.net