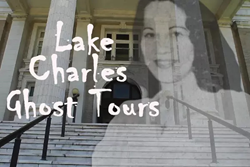 LAKE CHARLES, La. (PRWEB) October 15, 2015
Lake Charles/Southwest Louisiana has been named as one of the most haunted places by several national publications. Residents and visitors can now experience the haunted stories surrounding the area with the free Lake Charles Historic Tour App.
Experts in the paranormal say that there is a huge source of paranormal energy in Southwest Louisiana – some call it Eerie Calcasieu. The ghost tour takes users through the Historic Charpentier District and tells a variety of ghost stories, including the story of the haunted Calcasieu Courthouse and the story of Toni Jo Henry (the first and only execution of a female in the electric chair in Louisiana), which have been featured on The Travel Channel as one of the 10 Most Haunted Places.
Other sites along the ghost tour include the Bilbo Cemetery, the Lake Charles Civic Center, the Ramsey Mansion, the Bel House and the Reid House. For more information or to download the free historic app, visit http://www.visitlakecharles.org/apps.
###
ABOUT THE CHARPENTIER HISTORIC DISTRICT
The Historic Charpentier District is one of the finest collections of Victorian architecture in the state with structures dating from the late 1800s. Since there were no architects in evidence here until the early 1900s, the structures reflect the individual characteristics of the carpenters (charpentiers in French) and builders.