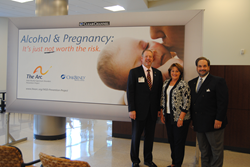 The purpose of this program is to educate healthcare providers (doctors, nurses, etc.) about the dangers of alcohol use during pregnancy and the need for appropriate alcohol screening and treatment to prevent FASD. Joe Freudenberger, CEO, OakBend Medical
Richmond, Texas (PRWEB) October 19, 2015
OakBend Medical Center is the first and only hospital in the United States to join forces with The Arc of Fort Bend and The Arc of the United States to form a partnership to educate healthcare providers and the community about Fetal Alcohol Spectrum Disorder (FASD) prevention.
Statistics show that one in 13 women say they drank alcohol while pregnant, resulting in one in every 100 children in the United States having an FASD. Fetal Alcohol Spectrum Disorder (FASD) is an umbrella term describing the range of effects that can occur in an individual whose mother drank alcohol during pregnancy. These effects may include physical, mental, behavioral, and/or learning disabilities with possible lifelong implications.
According to the Association of Reproductive Health Professionals, alcohol, no matter what kind, is a teratogen which is a known agent or factor that causes malformation of an embryo. When a pregnant woman drinks alcohol, so does her unborn child and there is no known safe amount of alcohol during pregnancy. The Arc's message is, "It's just not worth the risk." However, if the woman has had alcohol during pregnancy, it is never too late to stop drinking.
Joe Freudenberger, CEO of OakBend Medical Center stated, "Healthcare providers are instrumental in influencing women's health choices, especially during pregnancy or when planning a pregnancy. Many women are not informed of the risks associated with drinking while pregnant. According to the Centers for Disease Control and Prevention, only 1 in 6 adults talk with their healthcare providers about drinking. This has been an under reported issue where healthcare providers can make an impact."
OakBend Medical Center is working closely with The Arc of Fort Bend's Executive Director Laura LaVigne. According to LaVigne, "FASD is the number one preventable cause of a developmental disability. I needed a hospital to work with because I need to get to physicians, and OakBend stepped up to the plate and said we will implement this in all of our hospitals and all of the clinics."
To help this successful partnership, Clear Channel Outdoors has come onboard to do an outdoor campaign "Alcohol & Pregnancy: It's just not worth the risk." According to Lee Vela, Vice President of Public Affairs, "Clear Channel Outdoor is proud to be a part of this very important outreach program to help to prevent fetal alcohol syndrome disorders through education. The billboard messages we have donated to the Arc of Fort Bend will create over 700,000 market impressions in the first month they are up throughout Fort Bend County. If these messages save just one baby from this development disorder, then we have accomplished our goal. Clear Channel has a long history of giving back to the communities in which we operate and this program is one of the most important we have ever done."
###
About OakBend Medical Center:
OakBend Medical Center is an independent, community-minded health care organization located in the heart of Fort Bend County, providing quality care and exemplary service with its two full-service hospitals, as well as many specialty centers. For more information, please go to http://www.oakbendmedcenter.org. Connect with us on Facebook, http://www.facebook.com/OakBendMedicalCenter and follow us on Twitter at http://www.twitter.com/OakBendMedical.