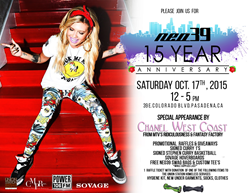 The event, sponsored by Under Armour, will be equipped with promotional giveaways, raffles, photo booth fun, food, and live entertainment for the entire family including a special appearance by Artist & Television Personality Chanel West Coast
Pasadena, CA (PRWEB) October 15, 2015
On Saturday October 17th, popular shoe destination Neo39 will celebrate their 15 Year Anniversary with a free community event to express their gratitude for the cities unwavering support. The event, sponsored by Under Armour, will be equipped with promotional giveaways, raffles, photo booth fun, food, and live entertainment for the entire family including a special appearance by Artist & Television Personality Chanel West Coast.
The collaborative participation of Under Armour will include a number of exclusive items off the launch of their new "Rule Yourself" brand campaign with NBA Championship Winner & MVP, Stephen Curry. Guests will be able to win an array of items from a signed Stephen Curry Basketball, a signed pair of the new Curry 1's, and the newest apparel. These giveaways will also be paired with other exclusive items like the newest trend, smart boards by the Sovage brand.
A proven pioneer in the retail space, Neo39 leads by example and 15 years later the mission is no different. In an effort of consistently supporting the city of Pasadena, Neo39 Owner Moses Cho will donate proceeds from the event to the local Union Station Homeless Services Shelter & Foundation. (http://unionstationhs.org/). Encouraging additional support and community participation, Neo39 will give attendees 1 free raffle ticket per donated items including but not limited to; hygiene kits, new clothes, new socks, and/or new undergarments for the Non-Profit Organization.
Location: 39 E Colorado Blvd, Pasadena, CA 91105
Time: 12-5pm
Red Carpet will remain open throughout the event
About Neo39
Founded in 2000, Neo39 has been an icon in Pasadena, California for 15 years with a reputation for being the "go to" establishment for exclusive footwear and athletic apparel. So much so, former Los Angeles Laker & Superstar Shaquille O'neal debuted his line "The Dunk" at a very new Neo39 store welcoming an influx of inquisitive reporters and an equally engaging community. Consistent to their approach and staying true to the brand, Neo39 offers a culture of invention, and desire to seek out the newest, most popular, and upcoming brands. For more information visit http://www.neo39.com
About Under Armour, Inc.
Under Armour, the originator of performance footwear, apparel and equipment, revolutionized how athletes across the world dress. Designed to make all athletes better, the brand's innovative products are sold worldwide to athletes at all levels. The Under Armour Connected Fitness™ platform powers the world's largest digital health and fitness community through a suite of applications: UA Record, MapMyFitness, Endomondo and MyFitnessPal. The Under Armour global headquarters is in Baltimore, Maryland. For further information, please visit the Company's website at http://www.uabiz.com
For Media Inquires Contact:
Corresponds Media & Public Relations Inc:
Dominique Simpson
Dominique(at)cmpr-inc(dot)com
Nati Celebrity Services, Inc
Domenick Nati
DNati(at)NatiCelebs(dot)com