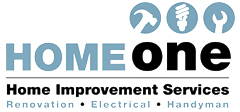 The addition of Brian, Bert and Chris to our team over the past three months really positions us for another year of growth going into 2016.
(PRWEB) November 16, 2015
Home One Home Improvement Services is excited to welcome three key new team members – Brian Hann, Chris Neiss and Roberta "Bert" Getz as they poise for exceptional growth and service in 2016. Each new team member is set to deliver Home One's premium level of quality, convenience, and trust upholding the Home One Five-Star Guarantee of 100 percent customer satisfaction.
Home One began simply with two life-long friends who joined forces to deliver high quality workmanship with superior service on smaller jobs that other companies wouldn't accept. With the goal "to do it different," Home One's mission caught on and electrical services and whole home renovations were soon offered as featured services.
Primed for more quality growth, Home One welcomes Brian Hann, Business Development Manager, who will work to develop new growth opportunities for Home One while managing the Facilities Maintenance Division. He will also be acting as liaison between Home One and the National Facility Maintenance Companies they perform work for.
In addition, Home One welcomes Chris Neiss, Project Manager, who delivers over 12 years of restoration and construction expertise to Home One's customers. In his role as Project Manager, Chris will be responsible for managing residential remodel projects with care and knowhow from start to finish.
Roberta "Bert" Getz, Office Manager, is the customers' first friendly and expert point of contact with Home One. Bert is ready to answer questions, address concerns and schedule estimates with the Home One expert needed for each unique project.
Home One is excited to welcome each new team member and looks forward to the continued delivery of the best services, skills and care to the communities of central Pennsylvania. Home One's President and Co-Founder Chad Neiss explains with anticipation, "We were very fortunate as a company to have had another terrific year in 2015 with sales topping our 2014 record setting year. We are very excited as we look into the New Year as we decided to re-vamp some of our internal workflow in order to create efficiencies and ultimately a much better experience for our clients. One of the keys to successfully executing on this strategy is to hire top notch employees who are great at what they do and who deliver impeccable service levels to our clients. The addition of Brian, Bert and Chris to our team over the past three months really positions us for another year of growth going into 2016."
As Home One begins their second decade of delivering technical expertise, quality and care to a growing assembly of loyal, satisfied customers, the new team members are eager to join in bringing customers Home One's unmatched five-star guarantee of on time service, 100 percent customer satisfaction, the written price proposal guarantee, the 24-hour return call promise and the workmanship warranty.
Call on the professionals at Home One Home Improvement Services today and discover the reason customers trust the Home One team to provide care, quality, and expertise on each and every job – large or small!
Bio: Back in 2005 Chad Neiss was frustrated and weary of everyday contractors who didn't return calls and when they finally did, rarely arrived on time if they bothered to show up at all. He called on his friend, Tom Brubaker, proposed his handyman service company plan and these two friends began Home One Services. Today, Home One features handyman services as well as full-blown renovations and electrical while still standing on the promises made at the beginning – backed by the five-star guarantee and the promise of highest quality, honest, trustworthy service and convenience along with a 100 percent customer satisfaction guarantee.