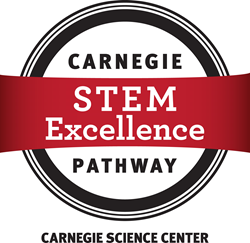 Saratoga, California (PRWEB) October 16, 2015
Silicon Valley-based educational leader Stratford School announces that it is the first educational institution in the state of California to earn the prestigious Carnegie STEM Excellence Pathway Digital Seal for excellence in education. STEM, which stands for science, technology, engineering, and mathematics, is a critical component of preparing today's students for future careers. With an intentional focus on 21st century student outcomes, Stratford School enables students to master the multi-dimensional abilities required of a successful future. The importance of a strong foundation in STEM education cannot be understated. Over the next decade, more than one million STEM graduates will be needed to fill the nation's employment needs.
The Carnegie STEM Excellence Pathway Digital Seal initiative is built on the belief that schools can improve their STEM education practices through a collaborative, positive approach. In order to receive the seal, schools are evaluated in six areas: teacher qualifications, curriculum, instructional practices, assessment and demonstration of skills, family engagement, and real-world connections. Within each area, there are specific criteria and descriptions of levels of performance. A school selects up to three areas to prioritize and then formulates a timeline and an action plan to address their goals. The Carnegie Pathway fosters growth in STEM education through a long-term, goal-oriented approach.
Carnegie's Digital Seal recognizes schools that are doing outstanding work in STEM education and reward their efforts. The seal has benchmarks that schools must meet in order to be eligible to apply for the award, and Stratford has been recognized for being on the cutting edge of STEM education, with key partnerships to advance 21st century learning. The Carnegie Institute believes that STEM education is closely linked with our nation's economic prosperity in the modern global economy.
"It is an exciting time for Stratford School, as we emerge and advance the work in STEM Education for our preschool through middle school students. We are honored to join the national group of distinguished schools that receive the Carnegie STEM Excellence Seal " says Stratford's Founder, Sherry Adams. "It is clear that STEM education is critical for the next generation, and this is part of Stratford's educational promise. Stratford believes that innovation is not simply a technical matter, but rather one of understanding how people and societies work creatively and collaboratively together to build a bright future. Preparing our students to lead tomorrow's global economy is our sacred responsibility."
The Carnegie Science Center promotes STEM education as a national priority for continued American leadership in science and technology. President Obama's Council of Advisors on Science and Technology estimates that over the next decade, 1 million additional STEM graduates will be needed to fill available jobs. Currently, 7.6 million individuals work in STEM-related jobs, and that number is only estimated to expand.
"There aren't many schools doing what we do, the way we do it," says Shawn Weidmann, Stratford School CEO. "Stratford provides an unparalleled education that focuses on STEAM (science, technology, engineering, arts, and mathematics) in order to prepare students for 21st century careers."
Stratford has 18 preschool, elementary, and middle school campuses in Northern California, and is expanding to Southern California, August 2016.
About Stratford School
Established in 1999, Stratford School is a leading independent private school founded on the belief that education is a significant influence in the life of a child. Stratford offers an accelerated curriculum from preschool through eighth grade with an emphasis in the areas of STEAM (Science, Technology, Engineering, Arts, and Mathematics) that incorporates music, physical education, foreign language, and social skills development. Stratford's goal is to prepare and mentor students for admission to competitive high schools and colleges. All students are provided the necessary tools to excel, and are encouraged to participate actively in leadership, community service, and extracurricular activities. Visit http://www.stratfordschools.com for more information.
About Carnegie Science Center
Carnegie Science Center is dedicated to inspiring learning and curiosity by connecting science and technology with everyday life. By making science both relevant and fun, the Science Center's goal is to increase science literacy in the region and motivate young people to seek careers in science and technology. One of the four Carnegie Museums of Pittsburgh, the Science Center is Pittsburgh's premier science exploration destination, reaching more than 700,000 people annually through its hands-on exhibits, camps, classes, and off-site education programs.