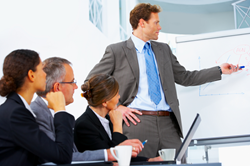 "We can't solve problems with the same kind of thinking we used when we created them." – Albert Einstein
Indianapolis, IN (PRWEB) October 19, 2015
Sales Xceleration, a pioneer in outsourcing sales team leadership, now has 33 Advisors, all former Sales VPs at successful companies based across the United States. Advisors provide small to medium size enterprises with leadership vision and skills of Fortune 500 companies at a fraction of the cost. Sales Xceleration services are proven methodologies used to improve top line and bottom line results for companies with small to moderately sized sales teams.
Business owners often can't realize their hopes, dreams and aspirations, due to their company's sales leveling off or declining. Sales Xceleration Advisors leverage their extensive experience to determine the core issues that are preventing growth, then they build the sales infrastructure components and provide leadership that often leads to record-breaking sales results for their clients. Learn more about how Sales Xceleration helps their clients here (How-SX-Helps). Sales Xceleration Advisors build the proper sales foundation that will allow business owners to enjoy continued sales growth for years to come. Expanding the company's national footprint allows Sales Xceleration to serve a broader base of business owners in each of these new markets.
Mark Thacker, Sales Xceleration President, states, "We are very excited about our new Advisors coming on board and the expansion of our services to new markets. Sales Xceleration Advisors are more than just 'sales managers,' they are seasoned professionals with over 800 years of collective sales experience. We do far more than just consult. We are builders. We roll up our sleeves alongside business owners and offer solutions tailored to their specific needs to generate maximum revenue. Our unwavering objective is to build the proper sales foundation that will allow business owners to enjoy continued sales growth for years to come."
For additional information, please contact Mark Thacker, President, Sales Xceleration, Inc., (317) 849-7163, mthacker(at)salesxceleration(dot)com, http://www.salesxceleration.com.
Sales Xceleration, Inc. provides turnkey selling solutions to small businesses and mid-sized corporations that want to launch or expand their sales operations. We use over 800 collective years of executive sales leadership experience to help your organization meet its vision and goals. Sales Xceleration consistently delivers sustainable sales performance improvement to our clients through the creation of sales strategy, process and execution.
For information, news and events visit http://www.salesxceleration.com
# # #