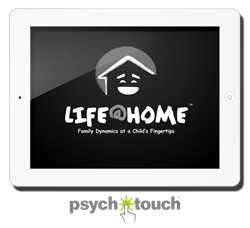 The concept of play is changing, as children are now growing-up with increasingly advanced technological play options. Life@Home™ emerged from this train of thought."
FORT LAUDERDALE, Fla. (PRWEB) October 16, 2015
Life@Home™, the first-of-its-kind tablet evaluation application designed for a variety of professionals who work with children, is now available for download at the Apple Store. The app, which sells for $99, was created by Psych-Touch, LLC, a new company that aims to modernize traditional evaluation and therapeutic tools and make them digitally accessible, in partnership with HD Interactive.
Developed by Dr. Steve O'Brien, a child psychologist, the innovative Life@Home app allows healthcare professionals and developmental specialists to obtain a child's perception of his/her family environment in order to assist with evaluation, treatment planning and other needs of the child. While Life@Home is largely aimed at individuals working in child/family mental health including psychology, psychiatry, social work, and counseling, its easy-to-use format also makes it suitable for those in the fields of education/guidance, child advocacy and welfare and family law.
"Play is a child's language, a concept well-known to professionals who work with children," said Dr. O'Brien, developer of Life@Home and founder of Psych-Touch, LLC. "The concept of play is changing, as children are now growing-up with increasingly advanced technological play options. While there is room for concern about this shift, there is also an opportunity to use children's interest in technology to promote their emotional well-being. Life@Home™ emerged from this train of thought."
Through a simple and intuitive design with a game-like quality, Life@Home employs easily created "scenarios" with sound and movement to evaluate perception and create a "sketch" of a child's home life. Specifically, the supplemental application tool allows children to create their personal view of their current family/home/residential situation complete with family member facial expressions, emotional traits, actions, speech and thoughts, while a professional observes and guides the process. Weather, music and final comments may also be added. Completed home scenarios are stored in a passcode-protected format that can be shared with other professionals, parents and caretakers. Ultimately, Life@Home delivers a contemporary and engaging method for learning about views, feelings, and perceptions that may not be easily accessed solely through traditional methods such as interviewing, drawing or play observation.
Additionally, the administration of Life@Home can stimulate meaningful dialogue between the child and the professional, further enhancing the information gathering process for a child's overall functioning and well-being. A detailed tutorial, both in video and text form, is included with the application.
Life@Home is designed to be used with children ages four to 12. Older children may also benefit, particularly if they are somewhat immature, delayed, or impaired in respect to their social/emotional development and verbal abilities. Children with limited ability and/or comfort for verbal expression will likely benefit from this visual instrument, as they may find Life@Home less intimidating than speaking directly with an adult.
For more information about Life@Home and to view a tutorial, please visit https://psychtouch.com/.
About Psych-Touch, LLC
Founded by Dr. Steve O'Brien, a child psychologist with a clinical-developmental focus, Psych-Touch, LLC, is a new company with a vision to provide contemporary tools which integrate psychology and touch-screen technology for understanding and assisting children and the adults in their lives. Many psychological instruments can only be administered by licensed mental health professionals, and while a reasonable rationale for this exists, this fact limits professionals in other fields who serve children. Accordingly, Psych-Touch strives to develop instruments which, while psychological in nature, can be administered and interpreted by professionals in mental health and other child-related fields. By broadening the scope of interactive psychologically minded instruments, Psych-Touch aims to assist greater numbers of professionals serving children while enhancing the effectiveness of services through user-friendly and engaging products. For additional information, please visit https://psychtouch.com/.
# # #