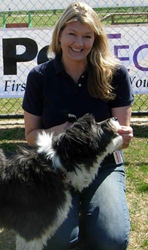 "We couldn't be more excited for Melissa to join the Park Cities Pet Sitter team." Joette White, President of Park Cities Pet Sitter
Dallas, Texas (PRWEB) October 16, 2015
Joette White, President of Dallas-based Park Cities Pet Sitter, has announced the addition of Melissa Knox to their company roster. Knox has been hired to oversee all staff training, in addition to managing the close relationships Park Cities Pet Sitter has with area concierges, veterinarians, pet supply stores and rescues.
Ms. White has wanted to fill this newly-created, key position for a while, but had not found a candidate with the unique mix of skills required to succeed at the job. She believes she has found the right mix with Knox. "Melissa has a distinctive background that makes her a great fit for Park Cities Pet Sitter," said White. "She is a Certified Professional Dog Trainer (CPDT-KA) and is also a Certified PET TECH Instructor (CPTI). This makes her uniquely prepared to educate our pet sitters for what they may encounter in the field. In addition, Melissa has a business technology and support background, which is vital for us since we are in the midst of converting over to brand new scheduling software and are launching iPads for the staff. Lastly, Melissa is incredibly personable and professional, which is a requirement for the business development work she will be tasked with. We couldn't be more excited for Melissa to join the Park Cities Pet Sitter team."
Knox holds a bachelor's degree in Business Administration from Texas Wesleyan University. She comes to PCPSI after a tenured career in corporate America, with experience in business development, marketing, training, and operations management. Knox says her true passion lies in working with animals and studying animal behavior, so the opportunity to combine her business skills, dog behavior knowledge, and pet safety related training was simply too attractive to pass up.
"I have always wanted to work full-time in the pet industry, I had just never been able to find the right position that really utilized my unique and broad range of skills," said Knox. "This opportunity with Park Cities Pet Sitter blends all of my abilities into one position. In addition, Park Cities Pet Sitter has a stellar reputation for professionalism and customer service, and they treat their staff with so much respect. I was honored to be asked to join their team."
Park Cities Pet Sitter has several openings for field pet sitting staff. Details can be found on their website at http://www.pcpsi.com/join/.
About Park Cities Pet Sitter: PCPSI has served the Dallas area 7 days a week, 365 days a year since 1992. Pet sitting, daily dog walks, pet taxis, overnight sitting, pet supply shopping, litter box cleaning and dog training are all part of the services PCPSI offers. Park Cities Pet Sitter is bonded and insured, and all sitters are employees--not independent contractors. A manager is on-call 24 hours a day to handle any emergencies. Additional information about Park Cities Pet Sitter can be found on their website at http://www.pcpsi.com.