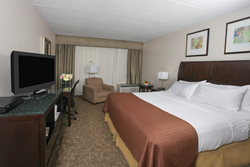 We want our guests to have a positive hotel experience with us, and we recognize the importance of fast and reliable Internet connectivity.
Long Island, New York (PRWEB) October 17, 2015
The Holiday Inn Westbury – Long Island has recently upgraded its Internet Wi-Fi throughout the Hotel, and now has 53 access points, which allows people to get connected, and stay connected, says Kushank Gupta, the Hotel's Director of Operations.
InterContinental Hotels Group (IHG), the parent company to Holiday Inn Hotels and Resorts, came up with a new standard for Internet and Wi-Fi services. The Holiday Inn Westbury was quick to respond by hiring a reliable and reputable company to install all new equipment throughout the Hotel. Whether guests want to connect from their rooms, the restaurant, the outdoor courtyard, meeting and banquet rooms, or the Hotel's lobby, Wi-Fi connection is now easier and faster than ever. The Holiday Inn Westbury's service provider offers a secure cloud based service and 24-hour real time monitoring and support. Each individual in-room guest receives designated bandwidth with upload and download speeds being the same. Bandwidth can also be customized to accommodate those with multiple devices that may require additional bandwidth, which is something the hotel's provider can accomplish with a simple request.
The Holiday Inn Westbury had until December 2015 to comply with new standards set forth by IHG; however, the owners and management team felt that in today's day and age their guests expect more, need more, and deserve more. The Hotel's General Manager, Franklin Manchester stated that industry based statistics show that the average corporate traveler travels with approximately five electronic devices that require Wi-Fi connectivity to maximize their capabilities. Manchester added, "Our goal is to always provide our guests with increased amenities and services, and provide them with an added value. We want our guests to have a positive hotel experience with us, and we recognize the importance of fast and reliable Internet connectivity. It has become a top priority for the vast majority of our guests, and it is ultimately our guests' voices that drive our decision making process and direction. "
The Hotel has recently added all new ergonomic lamps in all of its guest rooms, with multiport outlets. In addition, they have added USB charging hubs, located on the work desks in each guest room. The Hotel also added additional hubs to their newly renovated 24-hour business center. The Hotel has seen a great increase in corporate transient business throughout 2015, and believes that is largely due to the added amenities and services. The Holiday Inn Westbury will continue to see growth within the corporate market with their new initiatives and services.
To make a reservation at the Holiday Inn Westbury Long Island, guests are encouraged to visit their website at http://www.hiwestburyhotel.com, or by calling them direct at 516-997-5000.