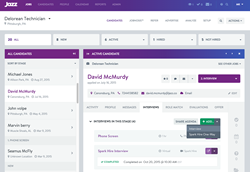 "We are excited to announce our integration with Jazz, as this partnership allows companies of all sizes to better evaluate talent in order to make the best hires possible." - Josh Tolan, CEO of Spark Hire
Chicago, Illinois (PRWEB) October 19, 2015
Spark Hire (http://www.sparkhire.com), the leading video interviewing platform, has partnered with Jazz (https://www.jazz.co), a powerful, easy-to-use recruitment software for startups and growing companies. They announced their integration today -- enabling hiring teams a way to fast-track their talent acquisition process and connect with top performers.
"We are excited to announce our integration with Jazz, as this partnership allows companies of all sizes to better evaluate talent in order to make the best hires possible," said Josh Tolan, CEO of Spark Hire. "Growing companies have a lot to think about as they scale their teams. From evaluating cultural fit, improving hiring team collaboration, and developing an awesome candidate experience, Spark Hire's integration with Jazz makes this easier than ever for our mutual customers."
Since recruiting the best talent is a priority, by conducting video interviews, hiring teams will better evaluate personality and communication skills in far less time; reducing time to hire and improving quality of hire. With collaboration features and sharing options, hiring teams can facilitate thoughtful discussions on which candidates they should pursue.
Jazz customers can now facilitate video interviews directly from their Jazz account -- improving the overall efficiency of their workflow.
"Jazz is committed to helping companies find the highest performing and best fit employees for the job," said Don Charlton, CEO and Founder of Jazz. "Spark Hire's integration with us furthers that goal tremendously, allowing hiring managers to make better evaluations and provide a better candidate experience. We are thrilled to offer Spark Hire's video interviews to our customers.
The combination of Spark Hire's video interviewing platform and Jazz's performance recruiting software will help organizations identify, connect with, hire, and coach top performers.
To learn more about the integration, contact Spark Hire today.
About Spark Hire:
Spark Hire is the fastest growing video interviewing platform in the world. Offering a completely branded one-way and recorded live video interview platform, Spark Hire helps companies eliminate phone screens, gain more insight into candidates, and make amazing hires. No contracts, no setup fees. Unlimited video interviews. For more information, visit sparkhire.com.
About Jazz:
Jazz (formerly Resumator) has been helping companies recruit, coach, reward, and retain high-performance workforces since 2009. An industry leader in the recruiting software industry, Jazz provides innovative tools to uncover talent to better build winning teams. To learn more about Jazz, visit jazz.co and follow @JazzDotCo on Twitter.