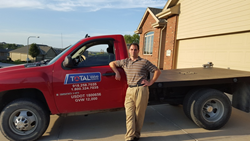 "Trusted Solutions for Over 30 Years"
Broken Arrow, OK (PRWEB) October 20, 2015
Total Valve Systems announces the addition of its new valve service and distribution location in Omaha, Nebraska, to better serve its growing customer base in the region starting December 1st, 2015.
The 10,000-square-foot shop will house Total Valve's service capabilities to provide complete valve repair with a focus on control valves and ASME pressure relief devices. Since Total Valve is also a supplier of all major valve brands, the site will serve as a stocking distribution location for many of them.
Industry veteran Mike Walker will lead the Omaha operation. Walker is a licensed professional engineer with more than 25 years of industry experience. He has vast product knowledge relating to relief and control valves, along with extensive expertise in working with power plants, refining, pipelines, LNG, ethanol and more.
Over the course of his career, Walker has represented such product lines as Flowserve (Valtek), Crosby, Anderson Greenwood, Magnetrol, Barton, Worcester Valves, Honeywell, Barber Colman, Watlow and others.
Total Valve Systems President Mike Lybarger says, "Adding skilled engineer Mike Walker and making the investment to open a facility in an area where service is needed is further proof of our ongoing commitment to provide unequaled, one-stop-shop service for all valve needs."
Total Valve Systems provides service for relief, control and isolation valves, utilizing our 6 on-site mobile units or in one of Total Valve's shops. In-house capabilities include full welding services and CNC machining capabilities.
Total Valve also manufactures custom products or can make custom modifications. The company has expertise in manufacturing engineered excess flow valves and has designed its own patented pilot relief valve. In-house engineering and testing take Total Valve's expertise to the highest level: including CFD flow modeling, metallurgical analysis, and physical flow testing, which is performed in our certified flow loops.
Total Valve's corporate headquarters is in Broken Arrow, Oklahoma. Sales and support personnel are located throughout the Unites States and in several international markets.
The new Omaha location gives Total Valve's customers in the region a close and convenient source for all valve needs.
For more information on products, services and contacts, visit http://www.totalvalve.com. Contact Mike Walker at mwalker@totalvalve.com or (913) 220-0558.