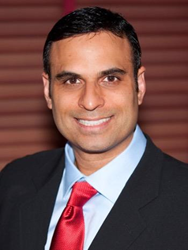 Oak Brook, IL (PRWEB) October 19, 2015
Patients with periodontal disease in Oak Brook, IL, can now receive laser gum therapy from Dr. Amarik Singh. Dr. Singh is proud to now offer gentle and effective gum disease treatments, with the utility of the technologically-advanced WaterLase REPaiR Laser technique. This cutting-edge laser procedure is designed to precisely target only infected gum tissue, allowing patients to diminish concerns about losing healthy gum tissue during the treatment process.
Dr. Singh now offers treatment with the WaterLase REPaiR Laser protocol to patients with periodontal disease in Oak Brook, IL. The precise nature of this laser gum therapy procedure makes it possible for Dr. Singh to treat all the stages of gum disease, including early, moderate, and severe. Treatments are performed in three distinct stages: the pre-surgical, surgical, and post-surgical phases. During the pre-surgical phase, Dr. Singh performs a comprehensive examination on the patient, to determine whether their oral and overall health is sufficient, to safely undergo treatment. During the surgical phase, Dr. Singh utilizes the gentle WaterLase Laser to locate and remove gingival epithelium from the gum pockets. Dr. Singh may perform a gingivectomy, as well as scaling and root planing procedures as necessary, during the surgical phase.
After the infected gum tissue has been successfully treated, Dr. Singh provides the patient proper oral care instructions that should be followed during the post-surgical phase. These instructions include proper brushing of the teeth, immediately following the operation, as well as long-term care of the treatment site for optimal results. Patients who receive gum disease treatment with the WaterLase REPaiR Laser should not undergo any gum probing procedures, for at least three months, after their treatment.
When gum disease is permitted to flourish, due to lack of treatment, it can lead to significant discomfort to the patient. It has also been linked to detrimental health conditions, such as diabetes and heart disease. Dr. Singh invites patients with periodontal disease in Oak Brook, IL, to seek laser gum therapy treatment immediately. Appointments may be scheduled by calling Dr. Singh's office and speaking with one of his helpful office assistants.
About the Doctor
Periodontal Implant Associates is a periodontal practice offering personalized dental care for patients in Chicago, IL. After graduating from Northwestern University Dental School, Dr. Amarik Singh went on to obtain his Specialty Certificate in Periodontics and earn his Master's from Northwestern University. Dr. Singh is deeply committed to continuing education and prides himself on remaining on the cutting-edge of the newest techniques and technology in dentistry. Dr. Singh is part of an elite group of dental professionals at the forefront of the Chao Pinhole® Surgical Technique (PST®), a revolutionary new approach to repairing gum recession. To learn more about the periodontal services available at Periodontal Implant Associates, please visit http://www.pidentists.com or call 630-233-9278.