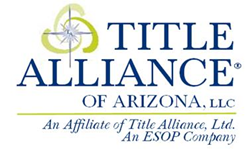 We are excited to grow our footprint and to venture out west. With this expansion into the Arizona market, we're truly spreading out vision and expertise across the country.
Media, PA (PRWEB) October 20, 2015
Title Alliance Ltd, an ESOP company specializing in title joint ventures, announced today that they will be expanding westward to Arizona with their most recent title joint venture with Keller Williams. This partnership with the Keller Williams market center in Mesa, Arizona, named Title Alliance of Arizona, marks Title Alliance's first joint venture in Arizona.
"With each joint venture addition, it is a great feeling knowing that we are helping so many real estate businesses nationwide with their recruitment, retention and compliance while protecting their customers and their reputations through the service our entities provide," explained Jim Campbell, Director of Title Alliance. "We know we have the right partners on the ground and we can't wait to see what the future brings with this partnership."
"We are excited to grow our footprint and to venture out west," says Lindsay Smith, Marketing Director for Title Alliance. "With this expansion into the Arizona market, we're truly spreading our vision and expertise across the country."
The Keller Williams Integrity First office, located in Mesa, Arizona was opened in 2001 and currently operates with 211 agents. Since opening, the office has handled more than 21,000 transactions. Year to date through September 30, the office has accrued more than $1.2 million in profit sharing from over 1,000 transactions.
This opportunity came to Title Alliance as a referral from an existing partner. After much due diligence into both Arizona and the specific operation to see if their model would be a fit, Title Alliance decided it would be a win-win for all involved. According to the American Land Title Association, Arizona ranks as the eighth largest state in title premiums generated.
"I am proud to be a part of this new project working with people of high integrity and creating opportunities for others," says Steve Chader, co-owner of KW Integrity First. "Title Alliance will help us push forward and reach even greater heights."
Title Alliance anticipates opening December 1 and will conduct interviews on-site October 27 & 28. Interested and qualified Escrow Officer and Title Officer candidates should contact Lindsay Smith directly or view the position postings and apply through LinkedIn.
Title Alliance of Arizona will be located at:
2500 S Power Rd Suite 121
Mesa, AZ 85209
About Title Alliance:
Title Alliance, Ltd, an ESOP Company is located in Media, PA and has been creating RESPA compliant title joint ventures since 1983 with lenders, mortgage bankers, realtors, builders and credit unions. Their roots date back to 1948 when their first agency, which is still in existence today, was formed. For more information or to find out how a Title Alliance's partnership or title management skills could benefit you visit them online or contact Lindsay Smith at 800-220-3901 x 165.