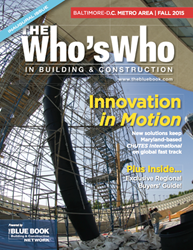 Baltimore, MD (PRWEB) October 22, 2015
Today at their Baltimore-D.C. Metro Showcase, The Blue Book Building and Construction Network unveiled a new printed publication, ​"The Who's Who in Building & Construction." ​The new magazine-style format is built on the foundation the construction industry has come to rely on from The Blue Book Network-- quality, accurate, regional information. Unlike the Network's traditional directory, this new buyers' guide is not limited to annual cycles. The company plans to release issues throughout the Spring of 2016 in conjunction with their regional Showcases.
True to its title, the magazine contains two key sections featuring the "​Who's Who" ​in a specific market. A "Trade Index" provides an easy-to-use classified section exclusive to Members; an "Alpha Index" offers an alphabetized listing pointing to each Member's ProView at thebluebook.com for deeper company information. In addition to being a buying or hiring resource, the publication is also a valuable marketing vehicle providing targeted exposure and distribution for regional and national advertisers.
The release is the 103-year-old company's response to the industry's clear need for this type of printed, regional and portable information solution. "Our company's history of growth is founded on a steadfast commitment to careful evolution in order to successfully meet the needs of our Members and the construction industry," says Rich Johnson, President of The Blue Book Building & Construction Network. "Our new '​Who's Who' ​publication is a central part of a new era in delivering best-in-class information through a variety of formats."
The inaugural issue of ​"The Who's Who in Building & Construction" ​features success stories behind innovative companies such as Williams Scotsman, CHUTES International and EDiS.
About The Blue Book Building and Construction Network:
The Blue Book Network, an Employee-Owned enterprise, is the largest and most active construction network in the United States. For over one hundred years, the commercial construction industry has turned to The Blue Book Network for accurate, complete and up-to-date information on the people and products required for their projects. The company maintains a nationwide industry search engine at http://www.thebluebook.com powered by BlueSearch technology. In addition, The Blue Book Network provides a complete suite of Internet-based information, workflow and marketing resources for all segments of the building and construction industry.