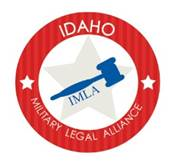 Boise, ID (PRWEB) October 20, 2015
The Idaho Military Legal Alliance, in cooperation with Army OneSource, Concordia University School of Law and the Boise VA Medical Center, has teamed up to host a no-cost, one-day will clinic for Boise area Veterans, current Servicemembers, and their dependents. The clinic will be held on Friday, October 30, from 10 a.m. until 12:00 p.m. at Building 27, which is located on the west end of the Boise VA Medical Center at 500 W. Fort St, Boise, ID.
During the FREE one-day event, attorneys will be available to meet one-on-one with Boise area Veterans, Servicemembers and their dependents to prepare a simple estate plan, which includes a simple will, durable power of attorney for health care, durable general power of attorney, and living will. The deadline date to RSVP for attendance is Monday, October 26. For more information and to RSVP for this no-cost event, contact Tara Flume at 208.639.5401 or tflume(at)cu-portland(dot)edu.
This no-cost clinic – the first Military personnel-specific estate planning clinic in the Boise area – is being held in honor of National Pro Bono Week, which is a time when attorneys, courts, and bar associations celebrate, enhance, and expand local efforts to increase access to justice for all. According to a survey conducted by the National Institute of Aging and the University of Michigan, many Americans, especially those over 50, do not have a will and delay creating one. This can lead to confusion, delay, frustration, and increased legal costs to one's heirs after death. By hosting this event, the Idaho Military Legal Alliance hopes to provide Veterans, Servicemembers, and their dependents with the peace of mind that comes from having a good estate plan.
Since 2013, the Idaho Military Legal Alliance has been working with community partners to establish free, monthly Military legal clinics on a more permanent basis around the state. Current clinics occur in Boise, Caldwell, Pocatello, Lewiston, and Coeur d'Alene, and the Alliance has plans for more regional clinics by year 2016. For more information about upcoming events or to sign up for a free legal clinic in your community, contact Ms. Sheila Warner at 208.660.5607 or swarner(at)afsc(dot)com.
Media Contact:
Sheila Warner, State Community Support Coordinator (ID, MT), Army OneSource 208.660.5607 or swarner(at)afsc(dot)com