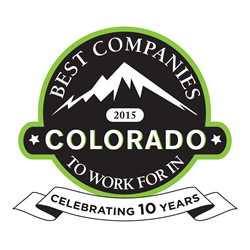 We are proud of the benefits and programs we offer our employees, who are the backbone of our success. - Paul A. Larkins, president and CEO, SquareTwo Financial
Denver, CO. (PRWEB) October 27, 2015
The Colorado Society of Human Resource Management (SHRM) State Council has named SquareTwo Financial a finalist for the 2015 Best Companies to Work for in Colorado™" award. SquareTwo Financial, a leader in the $100 billion asset management and recovery industry, is one of five finalists in the large company category.
In its tenth year, the awards program is offered statewide and modeled after Fortune Magazine's 100 Best Companies to Work for in America award and other statewide Best Places to Work programs.
"We are honored to be recognized as a top employer in Colorado by this rigorous award program," said Paul A. Larkins, president and CEO of SquareTwo Financial. "We are proud of the benefits and programs we offer our employees, who are the backbone of our success."
The 2015 Best Companies to Work for in Colorado program recognizes businesses in Colorado that:

Attract and retain talented workers
Foster innovative and creative employment opportunities
Show dedication to their employees' growth and quality of life
Develop definitive information to help existing companies in Colorado retain their workforce
Participants in the program are broken into three categories in Colorado: small companies (25-99 employees), medium companies (100-249 employees), and large companies (250 employees or more). Ranking companies were evaluated and chosen by ModernThink, and their participation will lead to long-term benefits for Colorado.
ModernThink, LLC conducted an assessment of participating companies that consisted of a two-part process designed to gather detailed data about each company. In part one, the employer completed a questionnaire, and in part two, employees of the company completed an employee survey.
The survey data was then combined to enable the experts at ModernThink, LLC to determine the strengths and opportunities of the participating companies. The companies were then ranked based on this data. ModernThink, LLC also created Assessment Findings Reports that are returned to each participating company. General comparisons of a company's data to the rest of the field are also included.
Winners will be announced at an awards luncheon Oct. 30, 2015, at the Westin Westminster in Westminster, CO.
About SquareTwo Financial
SquareTwo Financial is a leader in the $100 billion asset recovery and management industry. Since 1994, the company and its subsidiaries have helped more than two million individuals and businesses resolve their outstanding financial obligations. The SquareTwo Financial collection agency, Fresh View Solutions, works with consumers to repay their financial obligations. The company's Fresh View Funding debt ownership team works with banks and other issuers of credit to purchase unpaid debt. SquareTwo Financial and all of its subsidiaries are committed to delivering the Fair Square Promise — the company's internal commitment to treat every customer with fairness and respect. SquareTwo Financial is based in Denver, Colorado. Visit http://www.squaretwofinancial.com for more information.