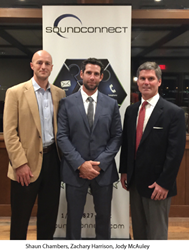 Zachary is a true hero and inspiration. It was an honor to be in the same room with a man who has sacrificed so much for our country and a man who is dedicated to preserving our American values.
CHARLESTON, SC (PRWEB) October 21, 2015
SoundConnect, an award winning unified communications (UC) and collaboration company, and Baird, private wealth management, proudly sponsored an evening with US Special Forces Veteran Zachary Harrison at the Charleston Harbor Resort in Mount Pleasant. SoundConnect and Baird brought community leaders together for an evening of collaboration and motivation. Harrison inspired the group with his narratives of leadership and courage on and off of the battlefield.
Harrison served in the U.S. Army Special Operations community at Fort Bragg, North Carolina, for more than 10 years. He went on to become an assault team member in a Direct Action/Hostage Rescue unit. He was deployed multiple times to Iraq and Afghanistan with these units. He finished his military career as an instructor at a Special Forces advanced skills course. He now uses his knowledge, experience, and teaching abilities to instruct Law Enforcement, Military units, and the general public in a wide spectrum of skill sets.
Harrison warmed the crowd with three key visions: leadership, courage and perseverance. He spoke for just over an hour to an audience of over 100 people. "There is zero progress without courage," says Harrison, "My life has provided me with the means and ability to work with some of the most courageous men and women and the takeaways are endless."
He emphasized the importance of good leaders at home, the need to take personal responsibility and the importance of doing every deed to your very best ability. He called this the "American Way." Harrison brought attention to our current world situation stating, "We need hero's now more than ever. Our Country really needs them."
Jody McAuley, Baird Senior Vice President/Branch Manager of the Charleston office says, "The opportunity to partner with SoundConnect and bring clients, business leaders and friends together to hear life lessons from one of our country's military hero's was a perfect way to kick off the fall season in Mount Pleasant."
According to SoundConnect Founder and CEO, Shaun Chambers, "Zachary is a true hero and inspiration. It was an honor to be in the same room with a man who has sacrificed so much for our country and a man who is dedicated to preserving our American values. His courage, strength and ability to lead on and off the battlefield is inspirational. Anyone fortunate to hear him speak takes away valuable lessons of selflessness and service to others."
About SoundConnect
SoundConnect specializes in unified business communications. Their offerings include a comprehensive portfolio of Unified Communication and Collaboration services including: Office 365, Microsoft hosted services, Skype for Business, Adobe Connect, WebEx, audio conferencing, webcasting, and video conferencing. SoundConnect's comprehensive communication technologies are customized and implemented to optimize the requirements of their customers by streamlining communications services that improve productivity, expand communications, reduce operational expenses and provide tools that empower collaboration efficiency.
Since 2013, SoundConnect has been a staple on the Inc. 5000 list, as one of the elite fastest growing American companies. SoundConnect was recently recognized for the 3rd consecutive year as an honoree in this very exclusive club.
The Telecom Association recently named SoundConnect a Top 5 Conferencing Provider for 2014. We have championed this award for the past three years; showcasing our ongoing long-term commitment to technology solutions for video, audio, web conferencing and customer service excellence.
About Baird
Baird is an international wealth management, capital markets, asset management and private equity firm. Thanks to our independent, employee-owned structure, each one of our 2,800 associates worldwide share a real stake in your success. We know from experience that the only way to help you reach your goals is to keep your best interests in mind – always.
We've earned our clients' trust and our success for more than 90 years by staying true to our mission: "To provide the best financial advice and service to our clients and be the best place to work for our associates."