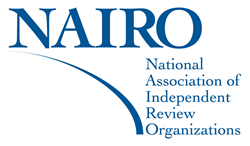 We hope this position paper dispels any inaccurate perceptions about independent review organizations. As a group, NAIRO members take seriously the task of ensuring a full, fair and transparent review process of all stakeholders. - Gib Smith
(PRWEB) October 22, 2015
The National Association of Independent Review Organizations (NAIRO) released a position paper today that clarifies the important role of accredited IROs and their involvement during the complex claims appeals process.
Recent feedback from various leaders and organizations within the advocacy community has spurred NAIRO to better define the roles and responsibilities of independent review organizations (IROs) within the broad scope of the internal and external review process.
In the position paper, NAIRO highlights the nationally recognized standards that govern accredited IROs.
"We hope this position paper dispels any inaccurate perceptions about independent review organizations," said Gib P. Smith, Executive Director, NAIRO. "As a group, NAIRO members take seriously the task of ensuring a full, fair and transparent review process of all stakeholders."
The position paper, Accredited, Compliant IROs Lead the Way to Fair and Transparent Medical Review, discusses the standards that regulate important areas of the IRO process, such as setting a threshold for reviewer qualifications, mitigating conflicts of interest, and ensuring a full and fair review process for all stakeholders.
Specifically, the position paper tackles several hot-button issues, including conflict of interest for both IROs and their reviewers; reviewer qualifications; the scope of the determination report and decision notes; and the importance of accreditation standards.
NAIRO welcomes comment on the position paper and seeks through this publication to further the discourse surrounding independent medical review with all involved parties.
The full position paper is available here:
http://nairo.org/site/1920nair/28_NAIRO_position_paper_v7.pdf
About NAIRO
NAIRO (The National Association of Independent Review Organizations) was formed by the majority of URAC-accredited IROs. The mission of NAIRO is to promote the quality and integrity of the independent review process at the internal and external levels. Utilizing the expertise of board-certified clinicians throughout the country, NAIRO members embrace an evidence-based approach to independent medical peer review, in order to help resolve coverage disputes between enrollees and their health plans. More information can be found at http://www.nairo.org.