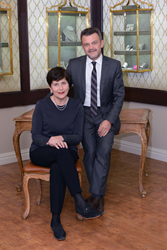 "We are so proud to celebrate 30 years in business," said owner and founder Edward Shapiro. "This is an amazing milestone for Diamond Dream and we are so grateful to the community and all of our loyal customers who have supported us over the years."
Bernardsville, N.J. (PRWEB) October 21, 2015
Diamond Dream Fine Jewelers, a luxury family-owned jeweler located in the heart of downtown Bernardsville, N.J., celebrates 30 years in business with a new look and showroom expansion that broadens jewelry and timepiece collections to include boutique fashions and accessories.
Diamond Dream has expanded upward, transforming its second story into a clothing boutique featuring unique designer apparel and accessories. Ready-to-wear fashions such as dresses, blouses, skirts and coats will be displayed alongside designer handbags, scarves and other accessories, in addition to distinctive gift items. Now a destination for fine jewelry and clothing, style-savvy clients will find all they need for a complete and chic new look at one location.
The new showroom will be called "Diamond Dream Jewelry and Apparel," and will commemorate its anniversary and grand opening with a week-long celebration from October 24 – October 31. Shoppers will enjoy generous gift certificates toward all showroom merchandise on both levels, refreshments, and trunk shows in the jewelry and clothing departments. A portion of the proceeds from the celebration will benefit Bernardsville-based Heartworks, an acts of kindness group providing support for people living in crisis and in need of hope. Diamond Dream will also be hosting a private anniversary celebration and donating additional proceeds to Heartworks.
"We are so proud to celebrate 30 years in business," said owner and founder Edward Shapiro. "This is an amazing milestone for Diamond Dream and we are so grateful to the community and all of our loyal customers who have supported us over the years."
Diamond Dream, a nj jewelry store, was established in 1985 and is operated by the husband and wife team of Edward and Faina. The first-generation immigrants built the store's success by providing elegant jewelry and timepieces and by delivering unparalleled service to their clients. Diamond Dream offers the world's finest brands, as well as exquisite custom creations designed and crafted by Edward.
"We view our anniversary as celebrating the first thirty years," emphasized Faina. "What better way to look to the future than to expand and offer our clients an even greater selection by adding unique, statement-making apparel to our already recognized luxury jewelry and timepieces?"
ABOUT DIAMOND DREAM JEWELRY AND APPAREL
Diamond Dream is a family-owned, independent jeweler and designer boutique located in downtown Bernardsville, N.J. Now celebrating its 30th year in business, Diamond Dream has built its success on providing exclusive jewelry and timepieces and by delivering unparalleled customer service to its clients. Recognized by Town and Country Magazine as one of America's leading independent jewelers, Diamond Dream now offers the world's finest jewelry brands and custom designs created by Edward Shapiro, along with fashion-forward apparel and accessories. For more information about Diamond Dream, call 908-766-4700 or visit: http://www.diamonddreamjewelers.com .
###