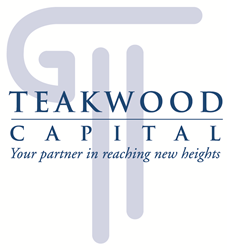 We look forward to working closely with Stratfor's leadership to provide operational and strategic expertise that will further enhance company growth and the strategic advantage provided to clients. - Shawn Kelly, Managing Director, Teakwood Capital
DALLAS, Texas (PRWEB) October 21, 2015
Teakwood Capital, a Dallas, Texas private equity firm, today announced it has made a major growth capital investment in Stratfor, an Austin-based geopolitical intelligence and advisory firm.
The capital will enhance operational infrastructure and expand the depth of insight Stratfor offers into global developments to help clients – including Fortune 500 companies in industries ranging from finance to natural resources, as well as high net-worth individuals – experience success while navigating an ever-changing world.
"Our team is clearly aligned with Stratfor's innovative vision for the future and the significant value the company provides to clients around the world," said Shawn Kelly, Managing Director at Teakwood Capital. "We look forward to working closely with Stratfor's leadership to provide operational and strategic expertise that will further enhance company growth and the strategic advantage provided to clients."
Expanding into new markets, understanding geopolitical trends and accurately forecasting the impact of global developments are constant challenges for many businesses. For nearly 20 years, Stratfor's global intelligence network, forecasting and objective methodology have offered actionable insights to help others make decisions with confidence.
"The investment by Teakwood Capital will help us expand our intelligence and forecasting services as well as the depth of insights we provide our clients and subscribers," said Shea Morenz, President & CEO at Stratfor. "We look forward to working with and benefiting from the Teakwood team's decades of experience in launching companies to higher growth and profitability."
Wick Phillips served as counsel to Teakwood Capital.
About Teakwood Capital
Teakwood Capital is a Dallas, Texas private equity firm that invests in profitable technology-focused companies with revenues below $25 million that are interested in accelerating growth with expansion capital and top-tier talent. The firm typically focuses on companies in Texas and neighboring states, and has deep, hands-on operating experience complemented by an Executive Partner team of successful ex-CXOs working closely with portfolio company management teams to create value through organic revenue growth, operational improvements, and sustainable intellectual property. For more information, visit teakwoodcapital.com.
About Stratfor
Stratfor is a geopolitical intelligence firm that provides strategic analysis and forecasting to individuals and organizations around the world. By placing global events in a geopolitical framework, we help customers anticipate opportunities and better understand international developments. For more information, visit stratfor.com.
###