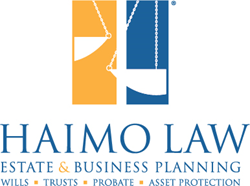 At Haimo Law, we are constantly striving to improve and utilize technology to create a unique and refreshing experience, with a constant focus on families and fundamentals
Fort Lauderdale, Florida (PRWEB) November 17, 2015
Haimo Law is celebrating five years of counseling families and businesses in South Florida. The boutique law firm represents clients as they plan for and protect their immediate and long-term futures. Over the past five years, Haimo Law has shown devotion to customer service, developing strong personal relationships with clients and ensuring peace of mind extending across generations.
"We work in tandem with CPAs and financial advisors to help businesses and families get organized, protect and preserve their assets for generations to come, and work to build a legacy that they can be be proud of," said Barry Haimo, principal of Haimo Law.
Looking toward the next five years, Haimo Law continues to prioritize relationships while also capitalizing on innovation that is redefining estate and business planning. Their unique approach and commitment to client education, satisfaction, and cutting-edge technology results in transparent and seamless communication and more effective representation.
Haimo Law provides valuable tools to better assist clients in understanding all aspects of the process. Hundreds of interactive short videos and an extensive complimentary knowledge database are available at Haimo LawTV as a benefit to current and perspective clients looking to better understand how to protect their assets and prepare for the future.
"At Haimo Law, we are constantly striving to improve and utilize technology to create a unique and refreshing experience, with a constant focus on families and fundamentals," said Haimo.
Haimo Law is located in Plantation, Florida and provides representation for wills, trusts, probate, business planning and asset protection planning. For more information and to set up an appointment, please visit http://www.HaimoLaw.com.