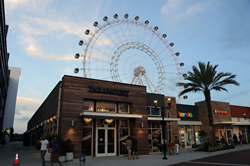 Farm to Table Traditional Lebanese Cusine.
Orlando, Fl (PRWEB) October 26, 2015
Paramount Fine Foods is the fastest growing Middle Eastern halal restaurant chain in North America with 30 locations across Canada, including catering and takeout, and specialty locations including Fresh East, Paramount Butcher Shop, Food factory, and the Yalla Food truck. The brand prides itself on serving health conscious, farm to table fresh foods, authentic recipes, grass fed, free range meats and quality, locally grown vegetables.
The popularity of the fast-casual chain is evident in its quickly growing clientele and the rapid rate at which new locations are opening including a recent entry into markets in the US. Much of this growth can be attributed to an attractive franchising program that is appealing to investors interested in contracting the franchise rights to entire cities or individual locations. With strong returns and a popular niche market, Paramount Fine Foods has recently headquartered its US growth from their Orlando office where they will soon be opening their 3rd location of 6 in the Central Florida market.
Plans are in the works for expansion to Tampa, Miami, Gainesville, and Tallahassee along with advanced negotiations for master franchises in New York City, California, and Texas.
Paramount Fine Foods founder and CEO / President Mohamad Fakih took over the first restaurant in Ontario, Canada in 2007 and has grown a multi-million dollar enterprise that continues to experience exponential growth globally. With the new entry into the US market, CEO of Paramount Fine Foods USA, Amine Abdul-Aal states "We are experiencing great interest from investors around the world who are looking at the franchise as viable brand whose timely entrance into a health conscious marketplace is showing strong returns and a proven market plan. We are committed to expansion of the restaurant chain through-out the USA while ensuring quality control through a rigorous application process. We have to protect the brand, quality, and consistency first and look to growth second"
Efforts are underway to market the franchise internationally with trips scheduled meet investors in Brazil, Colombia, United Kingdom, France, Spain, and Germany. The clear business plan and proven track record make it an attractive investment for International investors who may be interested in obtaining immigration status to the US although the brand makes no warrantees and refers interested parties to work with an immigration attorney and international CPAs to review options.
MEDIA CONTACT:
Nayrouz Brewster
Director of Corporate Services
941-685-4675
CONTACT FOR THE PUBLIC–
marketing(at)paramountfinefoodsusa(dot)com
407-930-8645
About Paramount Fine Foods
Paramount Fine Foods has grown to 50 locations in the Greater Toronto area and recently opened its second location in the USA in Orlando, Fl with a restaurant at I-Drive 360 and a Butcher Shop on Alafaya Trail. With additional restaurants planned for Winter Park, Lake Mary, and Downtown Orlando, they plan to expand across Florida into each State with Orlando as their US headquarters.
Embracing the fresh and healthy flavors of the Middle East, Paramount Fine Foods shares the most authentic and exotic recipes which have been passed down for generations. Serving baked pita straight from wood burning ovens, charcoal barbecue, free range, grass fed, and hormone / antibiotic free Halal meats, chicken and beef shawarma, various flat-bread style dishes, and fresh baklava handmade daily provide guests with a culinary experience that will not be forgotten. The Paramount Fine Foods experience is designed to go beyond great flavors and recipes. With delicate lighting and chandeliers, wall surface waterfalls, rich color palettes, traditional music, and warm welcoming staff, our restaurants provides a pleasing environment for all dining needs.
Paramount Fine Foods USA official website is http://www.paramountfinefoodsusa.com/