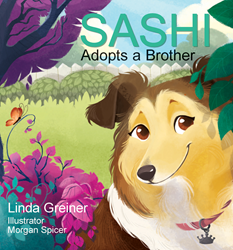 Dallas, Texas (PRWEB) October 22, 2015
Linda Greiner first introduced us to Sashi in Sashi, the Scared Little Sheltie, in which Sashi started out misunderstood and abandoned. Winning the hearts of Anna and her mom, Sashi went on to find her "forever home," and Greiner's book went on to win gold medals in the Mom's Choice Awards and Moonbeam Children's Book Awards. Now, in her second Mom's Choice Awards gold-winning book, Sashi Adopts a Brother (Brown Books Kids), Greiner continues Sashi's story as Anna and her mom decide to foster other Shelties looking for their "forever homes."
Kirkus Reviews once again praises the award-winning author, saying, "Greiner's passion for Shelties and rescue dogs comes through clearly in the story," and hailing Sashi Adopts a Brother as "a charming tale of friendship between dogs and the love of owners who understand their pets."
Accompanied by the lively illustrations of Morgan Spicer, the story shows readers how Sashi's owners work with Shetland Sheepdog Rescue to help other Shelties awaiting adoption.
Sashi Adopts a Brother demonstrates the special bond dogs can share with each other as well as with their families. As Sashi meets the foster dogs — Charlie, Brook, Sammie and Buddy — she learns from each.
"Each foster teaches Sashi something new, but eventually, one will become her 'brother' as she introduces him to her world," says Dorothy Christiansen, founder and CFO of the National Sheltie Rescue Network. "These are wonderful books for children."
Linda Greiner fell in love with Shelties when doing research on what type of dog to get for her sixteenth birthday. Many years later, instead of purchasing another puppy, she decided to contact the Shetland Sheepdog Placement Services of New Jersey (SSPSNJ) and adopted Sashi in 2001.
Hoping to find a suitable brother or sister for Sashi, "the princess," Greiner started fostering for SSPSNJ in 2003. Each dog has had a tale to tell. She is currently working on her third book in the series about Sashi and the rescues they have known and loved.
A portion of sales proceeds from Sashi, the Scared Little Sheltie and Sashi Adopts a Brother are being donated to Sheltie Rescue.
To learn more and to purchase Sashi Adopts a Brother and Sashi, the Scared Little Sheltie, visit http://www.NJSheltieMom.com or http://www.Sashi-the-Scared-Little-Sheltie.com. For media inquiries, please contact Marlo Kreitzinger at marlo.kreitzinger(at)theagencyatbb(dot)com or 972-248-9500.
# # #