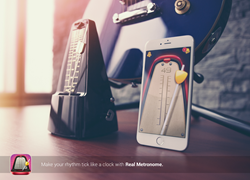 "The sky is the limit in terms of promotions, features, and functions that we are able to offer our community."
New York, NY (PRWEB) October 23, 2015
With a driving passion for music and mobile, Gismart (http://www.gismart.com) announces they have joined in partnership with First International Online Jazz Competition (http://www.madeinnyjazz.com) to benefit the participants to create the future of jazz music.
Next year's event will announce a special category where participants could enter the competition using music applications created by Gismart such as those already widely used by professional musicians. "I believe the Jazz industry should follow technology trends in order to stay relevant," says Misha Brovkin, Founder of Made In New York Jazz Competition. "The sky is the limit in terms of promotions, features, and functions that we are able to offer our community."
Music apps aren't just for streaming anymore. According to a recent Yahoo Finance story, 'The popularity of music apps among smartphone users increased at an unexpected rate in June this year'. It seems that streaming services drive the market, however, music making is the upward trend. According to an article at Synthtopia.com, iOS devices have overtaken the sales of Windows base computers stating that 'The number of musicians using mobile devices as their primary DAW is likely to continue to grow. In the last five years, many musicians have gone from considering mobile devices toys, to using them as significant tools for things like patch creation, synthesis, MIDI control and more. Musicians are now beginning to use mobile devices as a 'mobile DAW', for things like beat-making and capturing ideas'.
Gismart has been producing high quality music apps available on Googleplay, in the iTunes App store, on Amazon.com and YouTube for the iOS and Android platforms for over four years. Apps such as Real Guitar, Real Piano, Real Drums, and Real Metronome.
"We are very excited about bringing these two creative worlds together for the first time," says Gismart representative. "We feel that this partnership has the possibility of opening doors to many people across the globe who would other wise not be able to participate and in turn offer the world new creative outlets in music never before seen on such a large stage."
The competition is open online now. Participants need only register their projects and upload them on the page provided. Once the project video has been approved, the participant can complete the registration process.
Those who entered Made In New York Jazz Competition have a chance at winning a cash prize of $3000, plus 10% of the registration fees, The Ultimate Controller KAWAI VPC1 Ultra-Realistic grand piano touch to complete your virtual piano experience. A new standard in performance. Ivory II Grand Pianos and Ivory II American Concert D from Synthogy, Impression Cymbals set as well as a chance at international recognition as the winner will be flown to New York City (Sponsored by Kawai) to participate as a headline performer in the 'Made In New York Jazz Competition Gala Concert' with American Jazz Legends.
For more information, visit http://www.madeinnyjazz.com
About Gismart
Gismart has been producing high quality music apps for iOS and Android since 2011, with millions of downloads every month. Gismart has a driving passion for music and mobile.