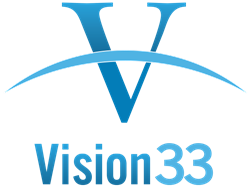 It's an honor to be recognized by the OCBJ as a fast-growth midsized company
Irvine, California (PRWEB) November 17, 2015
Vision33, an SAP channel partner and value-added reseller of the SAP Business One® application, today announced that it ranked No. 29 in the Orange County Business Journal's annual list of Fastest-Growing Private Companies: Midsize Companies. Published in the September issue of the Orange County Business Journal publication, the annual list ranks privately held, Orange County-based businesses by revenue growth over a two-year period. Vision33's annual revenue increased 100 percent during the two-year period measured: from $16.9 million for the year ending June 30, 2013, to $33.8 million for the year ending June 30, 2015.
Vision33's sustained growth follows a successful strategy; entry into new market segments where it supplies subsidiaries of large enterprises with the SAP Business One application for a more unified business management solution.
"It's an honor to be recognized by the OCBJ as a fast-growth midsized company," commented Alex Rooney, vice president of Vision33's US division. "Vision33 would like to congratulate other companies on this year's list, who embody the entrepreneurial spirit of the Irvine, California, which is the business hub of Orange County."
The Orange County Business Journal's annual list of fastest-growing private businesses ranks Orange County-based companies that have seen their yearly sales grow rapidly. To qualify, companies must be privately owned by an individual, a group of people, families, venture capitalists, private equity firms or other investors. Publicly traded companies, subsidiaries and locally owned offices of national services firms were not considered.
Founded in 2004 in Orange County, Vision33 focuses on the SAP Business One application and on helping businesses find new ways to leverage innovative technology including the SAP HANA® platform, which combines an in-memory database with application services, data processing and data integration services on a single platform for real-time operations, smarter decision making and better business results. As an Amazon Partner Network consulting partner with SAP Competency, Vision33 offers businesses the ability to deploy ERP applications like SAP Business One on the Amazon Web Services cloud.
About Vision33
Vision33, Inc. (http://www.vision33.com), four-time recipient of the SAP® North America Partner Excellence Award for SAP Business One, is a leading enterprise resource management (ERP) solutions provider, focused on providing the SAP Business One application for growing businesses and subsidiaries of large enterprises. Through offices located across North America, Vision33 provides the right balance of software, world-class consulting and support services to help customers better manage and grow their business.
Vision33 is a member of the Group zed family of companies. With roots dating to 1992, Group zed (http://www.gzed.com) is a privately owned and operated corporation, which provides its family of industry leading companies with the strategic vision and tools to deliver on the promise of technology to customers, setting them apart from other industry peers.
###
SAP, SAP Business One, SAP HANA and other SAP products and services mentioned herein as well as their respective logos are trademarks or registered trademarks of SAP SE (or an SAP affiliate company) in Germany and other countries. See http://www.sap.com/corporate-en/legal/copyright/index.epx for additional trademark information and notices. All other product and service names mentioned are the trademarks of their respective companies.
For more information, Press Only:
sarah.coish(at)gzed(dot)com