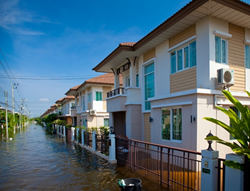 it's rare to find a standard policy that covers flood damage
Chicago, IL (PRWEB) October 24, 2015
For first-time home buyers, navigating a home insurance policy can be overwhelming. Many homeowners don't realize a standard home insurance policy will have several gaps in its coverage. The Federal Savings Bank highlights a few examples standard exclusions to help prevent paying costly out-of-pocket repairs:
Check If Flood Damage Is Covered
Though insurers usually cover sudden water damage caused by plumbing failure, the Federal Emergency Management Agency stated in 2011 that this it's rare to find a standard policy that covers flood damage. If you live in a flood-prone area, look into purchasing a flood policy from the National Flood Insurance Program. Flood damage can be severe, if the premium is not too expensive it is worth the peace of mind. If flood damage is purchased make sure it covers the cost of rebuilding a new home.
Check If Earthquake Damage Is Covered
Because earthquakes are so unusual in most parts of the country, many insurers don't cover them without an addendum policy. Such addendums are available in all states except California. Residents of that state can purchase coverage from the not-for-profit California Earthquake Authority. Earthquake insurance is strongly recommended in California especially in cities like San Francisco or Los Angeles.
Routinely The Water Pipes
Though sudden water damage is usually covered, negligence is not. The Federal Savings Bank knows that is the insurer finds pipes broke due to homeowner neglect, they won't cover the damage. Be sure to properly maintain your new home's plumbing.
Whether customer, reality, or trusted referral source, The Federal Savings Bank understands how important every purchase or refinance transaction is to help our clients optimize the purchase or refinance of their home.